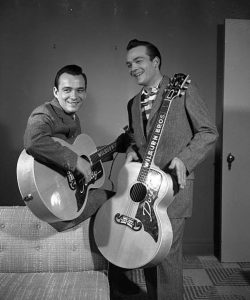 Wilburn Brothers Show Guest Stringbean And Al Brumley 1971 ! Doyle and Teddy Wilburn had one of the most successful traveling country music shows of the 1960's. When they brought their talents to television in «The Wilburn Brothers Show» from 1963 to 1974, they also brought with them a rich history of country music. Their weekly syndicated TV variety series was one of the first country music programs to broadcast in color. Their guest list is a panorama of legends and soon-to-be legends. Perhaps the highlight of the series was the girl singer, a young Loretta Lynn. «The Coal Miner's Daughter» appears on most of the 354 half-hour episodes and, in many ways, became the third «star» of the show. The format is similar to the «Porter Wagoner Show», but with a more subdued and «laid-back» approach. The Wilburn Brothers provided early exposure to acts including Alabama, Crystal Gayle, Tammy Wynette and George Jones.




The brother duo Doyle Wilburn (July 7, 1930 – October 16, 1982) and Teddy Wilburn (November 30, 1931 – November 24, 2003) were born in Hardy, Arkansas. They first attracted attention as child performers in an act called The Wilburn Family; Roy Acuff discovered them and brought them to the Grand Ole Opry in the 1940s.
After growing up, they continued to travel and were regulars on the similar Louisiana Hay ride program from 1948-1951. They continued on in country music as The Wilburn Brothers and had their first hit record in 1954 titled Sparkling Brown Eyes. From 1955 to 1972, they had 30 hits on the charts and were named Duet of the Year in the Music City News Awards in 1967.
«Country's Original Brother Act» … The Wilburn Brothers.
Wilburn Brothers Show Guest Stringbean And Al Brumley 1971
Music
Wilburn Brothers – "A Fool Never Learns"
Loretta Lynn – "When I Reach The Bottom"
Stringbean – "Mighty Dark For Me To Travel"
Al Brumley – "Just Dropped In To Say Goodbye"
Loretta Lynn – "What's The Bottle Done To My Baby"
Stringbean, Hal Rugg, Buddy Spiker – "Fire On The Mountain" (instrumental)
Wilburn Brothers – "I Need The Prayers" (gospel)
Al Brumley – "Gotta Travel On"