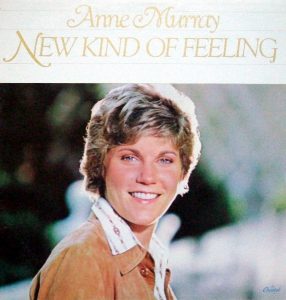 Anne Murray – I Just Fall In Love Again, Canadian country singer Anne Murray was unaware Dusty Springfield had recorded "I Just Fall in Love Again" just 6 months prior. Springfield was one of Murray's favourite singers, and has said "If I had known (Springfield) had released it as a single, I never would have recorded it" as Murray's version of the song largely overshadowed Springfield's. She released it in early 1979, on her platinum-selling album New Kind of Feeling.
Murray released her version as a single, and it topped Billboard's Country and Adult Contemporary charts for three weeks, while reaching number 11 on the Cash Box Top 100 and number 12 on the Billboard Hot 100 chart.
It was the first of three successive number one Country hits and four consecutive number one Adult Contemporary hits during 1979 and 1980. Though Murray loves the song, she is quoted in The Billboard Book of Number One Adult Contemporary Hits as saying she was surprised at its success on the Country charts, as she didn't feel the song sounded very "country". Nevertheless, Billboard ranked it as the number one Country hit of 1979. Murray included the song as a posthumous duet with Dusty Springfield on her own 2007 album Duets: Friends & Legends.
Anne Murray – I Just Fall in Love Again
From the album New Kind of Feeling
B-side "Just to Feel This Love from You"
Released January 1979
Recorded 1978
Genre Country pop
Length 2:47
Label Capitol
Songwriter(s) Steve Dorff, Larry Herbstritt
Producer(s) Jim Ed Norman
Anne Murray – I Just Fall In Love Again Lyrics
Dreaming, I must be dreaming
Or am I really lying here with you?
Baby, you take me in your arms
And though I'm wide awake, I know my dream is coming true
And, oh, I just fall in love again
Just one touch and then it happens every time
There I go, I just fall in love again and when I do
I can't help myself, I fall in love with you
Magic, it must be magic
The way I hold you and the night just seems to fly
Easy for you to take me to a star
Heaven is that moment when I look into your eyes
And, oh, I just fall in love again
Just one touch and then it happens every time
There I go, I just fall in love again and when I do
I can't help myself, I fall in love with you
I can't help myself, I fall in love with you