Gene Autry – Mexicali Rose: A Classic Western Tune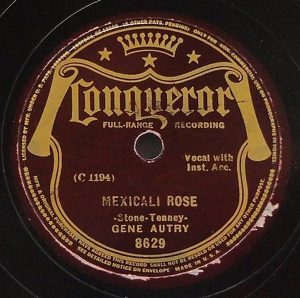 Are you a fan of Western music? If so, you've probably heard of Gene Autry and his famous song, Mexicali Rose. Recorded on December 24, 1935, and relase in April 1936, this classic tune was written by Helen Stone and Jack B. Tenney, and produced by Johnny Marvin. Mexicali Rose quickly became a hit and climbed to the top of the charts, reaching number two on the Billboard country singles chart.
The Story of Mexicali Rose
So, what is the story behind this famous tune? Mexicali Rose is a love song that tells the story of a man who falls in love with a beautiful Mexican woman named Rose. The song describes the natural beauty of the Mexican landscape, and the sweet and tender moments shared between the two lovers. Gene Autry's smooth and melodic voice brings the lyrics to life, making it a beloved classic in the Western music genre.
The Legacy of Gene Autry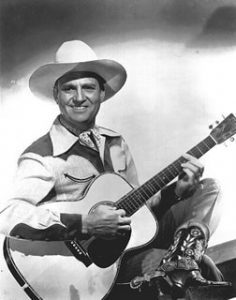 Gene Autry was not only a talented singer, but also a successful actor and businessman. Known as "The Singing Cowboy," Autry appeared in more than 100 films and recorded hundreds of songs, many of which became hits. He was a pioneer in the country music industry and paved the way for future generations of artists.
The Significance of Western Music
Western music has a rich history and has played an important role in American culture. It combines elements of folk, country, and blues music, and is often associated with the American West and cowboy culture. Western music has influenced many genres of music, and continues to be a beloved genre for music lovers worldwide.
In conclusion, Gene Autry's Mexicali Rose is a classic Western tune that has stood the test of time. Its beautiful lyrics and melody have captured the hearts of many, and its legacy continues to live on today. If you're a fan of Western music, be sure to add this song to your playlist.




Gene Autry – Mexicali Rose Lyrics
Mexicali rose, stop crying
I'll come back to you some sunny day
Every night you know that I'll be pining
Every hour of year while you're away
Dry those big brown eyes and smile dear
Banish all those tears and please don't cry
Kiss me once again and hold me
Mexico rose, goodbye
Mexicali rose, I'm leaving, don't feel blue
Mexicali rose, stop grieving, I love you
When the dove of love is winging through the blue
All the castles you've been building will come true