The Story Behind «Making Believe»: From Kitty Wells to Conway And Loretta
The Song
«Makin' Believe» is a country music song written by Jimmy Work. The song has been covered by many artists over the past fifty years, including Kitty Wells, Bob Dylan, Johnny Cash, Don Gibson, Roy Acuff, Lefty Frizzell, Wanda Jackson, Connie Francis, Ray Charles, Anita Carter, Dolly Parton, Emmylou Harris, Merle Haggard, Ernest Tubb, Skeeter Davis, The Haden Triplets, Social Distortion, and Volbea. The song is occasionally called «Makin' Believe.»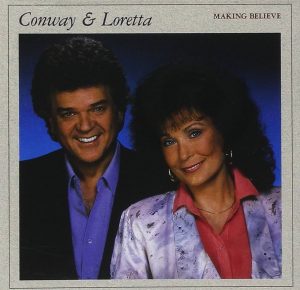 Conway And Loretta
Loretta Lynn and Conway Twitty released a duet version of the song in 1988 and used it as the title track for their final album together. Although the song was not a radio hit for them, it was a popular number at their concerts, and the album sold fairly well via television ads.
The Lyrics
The inspiration behind the lyrics of «Makin' Believe» is a melancholy ballad about not getting over a former lover. The song shares a story of a woman who does not want to get over her former lover. In her daydreams, she is still madly in love with her ex, knowing that they will never ever get back together again. The singer daydreams that they are still loved by the old flame even while fully knowing «you'll never be mine» again.
Kitty Wells – Making Believe Lyrics
Making believe that you still love me
It's leaving me alone and so blue
But I'll always dream
Still, I'll never own you
Making believe
It's all I can do
Can't hold you close
When you're not with me
You're somebody's love
You'll never be mine
Making believe
I'll spend my lifetime
Loving you
Making believe
Making believe that I never lost you
But my happy hours I find are so few
My plans for the future will never come true
Making believe
What else can I do?
Can't hold you close
When you're not with me
You're somebody's love
You'll never be mine
Making believe
I'll spend my lifetime
Loving you
Making believe