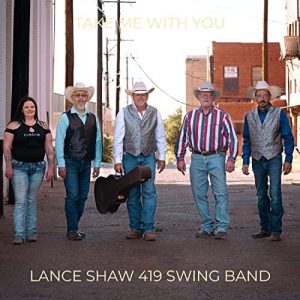 Lance Shaw & 419 Swing – Take Me With You, The origin of this group's name rests in an address once occupied by its founders…but we're sure "Swing" probably was not the street name!
On this, their second album release, we find an even mix of covers and originals (from Lance Shaw and one co-write with Ricky McFaul). The group bears the comfortable earmarks of one of those groups whose fans will either trail them from club to club or will be regulars if they serve as a house band. By that I mean they obviously understand the tempo mix and ratio of fast to slow that dancers prize. Plus they actually have some Western content in their Western Swing! Original picks include the clever lyrics of the title track "Take Me With You," "Bull Bucked Me Money," "Angels Walk Around Texas and "Texas Tumbleweed." Pick covers are "Six Pack To Go," "Sugar Moon" and "Undo The Right."
Lance Shaw & 419 Swing is a fairly new assemblage, beginning a short four years ago and firming up their current personnel within the last two. Their first album gained favorable recognition, landing among the top five finalists for the AWA's Swing Album Of The Year honors. So you can rightly assume they have something good to offer! Ten tracks, recommended.
CD: (suggest googling by name)
– by Rick Huff
Lance Shaw & 419 Swing – Take Me With You
Track List
1 – Take Me With You
2 – Undo The Right
3 – Bull Buck Me Money
4 – Make The World Go Away
5 – Adios Mi Amor
6 – Six Pack To Go
7 – Angels Walk Around in Texas
8 – Sugar Moon
9 – Texas Tumbleweed