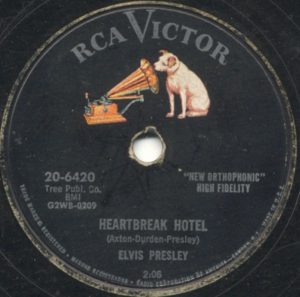 Willie Nelson and Leon Russell – Heartbreak Hotel, is a song recorded by American singer Elvis Presley. It was released as a single on January 27, 1956, Presley's first on his new record label RCA Victor. It was written by Mae Boren Axton and Tommy Durden, with credit being given also to Presley.
A newspaper article about the suicide of a lonely man who jumped from a hotel window inspired the song. Axton presented the song to Presley in November 1955 at a country music convention in Nashville. Presley agreed to record it, and did so on January 10, 1956, in a session with his band, The Blue Moon Boys, the guitarist Chet Atkins, and the pianist Floyd Cramer. "Heartbreak Hotel" comprises an eight-bar blues progression, with heavy reverberation throughout the track, to imitate the character of Presley's Sun recordings.
Part of the original personnel of the 1956 recording released their own versions, Chet Atkins recorded it for the 1963 album The Guitar Genius, and also, Presley's lead guitarist Scotty Moore recorded the song for his 1964 album The Guitar that Changed the world. Willie Nelson and Leon Russell had a number one cover version in 1979 on the country charts, it was Russell's only number one hit on the charts.
Willie Nelson and Leon Russell – Heartbreak Hotel
From Album One For The Road
B-Side: Sioux City Sue
Sello: Columbia – 3-11023
Formato: Vinilo, 7″, 45 RPM, Single
País: US
Publicado: 1979
Género: Rock, Folk, World, & Country
Estilo: Country Rock
Songwriter(s) Mae Boren Axton Tommy Durden Elvis Presley
Producer – Leon Russell, Willie Nelson
Willie Nelson and Leon Russell – Heartbreak Hotel lyrics
Oh since my baby left me
I've found new place to dwell
Down at the end on a lonely street
That Heartbreak Hotel
And I get so lonely baby
I get so lonely baby
I get so lonely, I could die
And although it's always crowded
You still can find some room
For broken hearted lovers
To cry away their gloom
And I get so lonely baby
I get so lonely baby
I get so lonely, I could die
Well the bellhop's tears keep flowing
The desk clerk's dressed in black
They've been so long on a lonely street
They'll never, never, never get back
I get so lonely baby
I get so lonely baby
I get so lonely, I could die
So if your baby leaves
You got a tale to tell
Just take a walk down lonely street
To Heartbreak Hotel
I get so lonely baby
I get so lonely baby
I get so lonely, I could die
Oh since my baby left me
I've found a new place to dwell
Down at the end on a lonely street
That Heartbreak Hotel
And I get so lonely baby
I get so lonely baby
I get so lonely, I could die
And I get so lonely, I could die