Sonny James – I'll Never Find Another You, is a 1964 single by The Seekers, which reached No. 1 in the United Kingdom in February 1965. It was The Seekers' first UK-released single, and it was the second-best-selling of 1965 in the UK. The song was also popular in the United States, reaching peaks of No. 4 pop and No. 2 easy listening on the Billboard Hot 100 charts.
The track was written and produced by Tom Springfield, who was also responsible for most of The Seekers' subsequent hits.
It received a 1967 US revival as a country music No. 1 by Sonny James.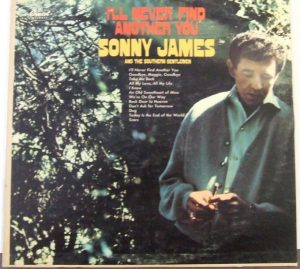 Sonny James – I'll Never Find Another You
From the album I'll Never Find Another You
B-side "Goodbye Maggie Goodbye"
Released May 1967
Genre Country
Label Capitol
Songwriter(s) Tom Springfield
Producer(s) Kelso Herston
Sonny James – I'll Never Find Another You Lyrics
There's a new world somewhere they call the Promised Land
And I'll be there someday if you will hold my hand
I still need you there beside me no matter what I do
For I know I'll never find another you
There is always someone to reach across they say
And you'll be my someone forever and today
I could search the whole world over until my life is through
But I know I'll never find another you
It's a long long journey so stay by my side
When I'll walk through the storm
You'll be my guide (be my guide)
If they gave me a fortune my pleasure would be small
I could lose it all tomorrow and never mind at all
But if I should lose your love dear I don't know what I'd do
For I know I'll never find another you
[ Instrumental bridge ]
But if I should lose your love dear I don't know what I'd do
For I know I'll never find another you another you another you