Gene Pitney – (The Man Who Shot) Liberty Valance, is a song written by Burt Bacharach and Hal David, which was released by Gene Pitney in 1962. It spent 13 weeks on the Billboard Hot 100 chart, peaking at No. 4, while reaching No. 2 on Canada's CHUM Hit Parade, and No. 4 on New Zealand's "Lever Hit Parade".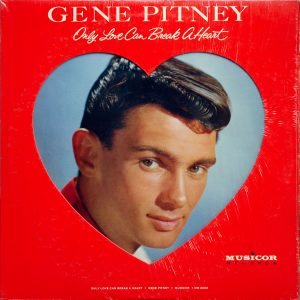 Although it was not used in the film, The Man Who Shot Liberty Valance, there is disagreement about whether the song had been intended to appear in it. Nevertheless, Pitney has stated that the recording session was paid for by Paramount, and that it was midway through the effort when he found out that the song was not going to be included in the film; one of the orchestra members told him that the movie had been released. Session drummer Gary Chester plays on the recording.
The song was ranked No. 36 in the Western Writers of America's list of the top 100 Western songs of all time, as compiled from a survey of its members.
Gene Pitney – (The Man Who Shot) Liberty Valance
From the album Only Love Can Break a Heart
B-side "Take It Like a Man"
Released 1962
Genre Country pop
Length 2:49
Label Musicor
Songwriter(s) Burt Bacharach & Hal David
Gene Pitney – (The Man Who Shot) Liberty Valance Lyrics
When Liberty Valance rode to town
The women folk would hide, they'd hide
When Liberty Valance walked around
The men would step aside
Because the point of a gun
Was the only law that Liberty understood
When it came to shooting, straight and fast
He was mighty good
From out of the east a stranger came
A law book in his hand, a man
The kind of a man the West would need
To tame a troubled land
'Cause the point of a gun
Was the only law that Liberty understood
When it came to shooting, straight and fast
He was mighty good
Many a man would face his gun and many a man would fall
The man who shot Liberty Valance
He shot Liberty Valance
He was the bravest of them all
The love of a girl can make a man
Stay on when he should go, stay on
Just trying to build a peaceful life
Where love is free to grow
But the point of a gun
Was the only law that Liberty understood
When the final showdown came to pass
A law book was no good
Alone and afraid she prayed that he'd
Return that fateful night, ah, that night
When nothing she said could keep
Her man from going out to fight
From the moment a girl gets to be full grown
The very first thing she learns
When two men go out to face each other
Only one returns
Everyone heard two shots ring out
The shot made Liberty fall
The man who shot Liberty Valance
He shot Liberty Valance
He was the bravest of them all
The man who shot Liberty Valance
He shot Liberty Valance
He was the bravest of them all