Reba McEntire – Somebody Should Leave: A Timeless Country Music Anthem
Introduction
Welcome to the world of country music, where heartfelt lyrics and soul-stirring melodies create lasting memories. In this article, we delve into the iconic song «Somebody Should Leave» by the legendary Reba McEntire. Originally recorded on January 28, 1985, written by Harlan Howard and Chick Rains, and produced by Harold Shedd, this captivating tune became a chart-topping sensation. Join us as we uncover the essence of this timeless classic, inviting you to experience the emotions it evokes.
The Story behind Reba McEntire – Somebody Should Leave
At its core, «Somebody Should Leave» narrates a tale of heartache and longing. Released on album «My Kind of Country», this song encapsulates the pain of a relationship teetering on the edge of collapse. Through her powerful vocals, Reba McEntire's emotive rendition brings every lyric to life, making it resonate with listeners from all walks of life.
The Deep Emotions Expressed
«Somebody Should Leave» showcases McEntire's ability to convey raw emotions. The song speaks of a relationship plagued by turmoil and unspoken truths. It explores the inner turmoil and conflicts faced when one realizes it might be time to walk away. Listeners find solace and relatability in the heartfelt words and empathize with the protagonist's struggles.
Chart Success and Impact
Upon its release, «Somebody Should Leave» soared to the top of the charts, captivating country music enthusiasts worldwide. The song climbed to the number 1 on US Hot Country Songs (Billboard), also number 8 on Canadian RPM Country Tracks. The success of this song further solidified Reba McEntire's status as a trailblazing artist within the country music industry.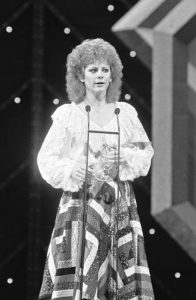 Conclusion
In summary, «Somebody Should Leave» epitomizes the power of country music to capture the essence of human emotions. Reba McEntire's unforgettable rendition, coupled with the timeless lyrics, makes this song a cherished gem within the genre. Whether you're a devoted country music fan or simply appreciate the beauty of heartfelt ballads, «Somebody Should Leave» is a must-listen. Immerse yourself in its enchanting melodies, and allow its resonating message to touch your soul.
Remember, if you're looking to explore the vast world of country music, be sure to check out our blog regularly for more captivating insights and delightful musical journeys.
Reba McEntire – Somebody Should Leave Lyrics
[Verse 1]
It sure gets quiet
When the kids go to bed
We lay here in the silence
Putting off what must be said
[Verse 2]
I read a book, you watch T.V
As our love dies quietly
I'm so sad
I don't know what I've just read
[Chorus]
Somebody should leave
But which one should it be
You need the kids and they need me
Somebody should leave
But we hate to give in
We keep hoping somehow
We might need each other again
[Verse 3]
You say goodnight
And turn and face the wall
We lie here in the darkness
And the tears start to fall
[Verse 4]
If it's only you and me
Goodbye might come more easily
But what about
Those babies down the hall
[Chorus]
Somebody should leave
But which one should it be
You need the kids and they need me
Somebody should leave
But we hate to give in
We keep hoping somehow
We might need each other again