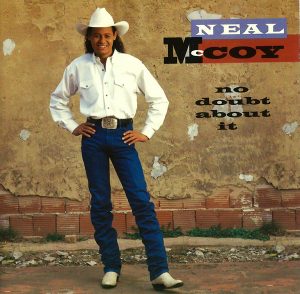 Neal McCoy – No Doubt About It, is a song written by John Scott Sherrill and Steve Seskin, and recorded by American country music artist Neal McCoy. It was released in December 1993 as the first single and title track from his album No Doubt About It. McCoy's rendition was his breakthrough single release, becoming his first Number One country hit in early 1994.
The song is a ballad in which the male narrator states that he and his lover were "meant to be together, no doubt about it.
The music video was directed by Martin Kahan and premiered in early 1994. It features McCoy and a woman building a house in the countryside. It is entirely black-and-white.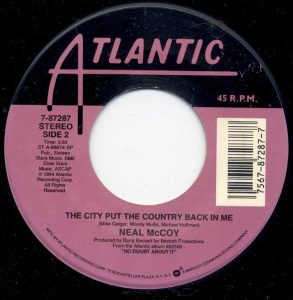 Neal McCoy – No Doubt About It
From the album No Doubt About It
B-side "The City Put The Country Back In Me"
Released December 6, 1993
Genre Country
Length 3:48
Label Atlantic
Songwriter(s) John Scott Sherrill Steve Seskin
Producer(s) Barry Beckett
Neal McCoy – No Doubt About It lyrics
Just like every lock's got to have a key
Every river flows looking for the sea
And when you plant a seed, it reaches for the sky
That's just the way it is, nobody wonders why
Like coffee needs a cup you know that it ain't much good without it
We were meant to be together, no doubt about it
Like a hammer and a nail, socks and shoes
We go hand in hand, like a rhythm and blues
What good is a man who hasn't got a dream
Bout as good as a car with no gasoline
You're the one I'm dreaming of got to have your love can't live without it
We were meant to be together, no doubt about it
No there ain't no doubt about it
Something was missing it was making me blue
But all I ever needed was you
Just like every lock's got to have a key
Every river flows lookin' for the sea
And when you plant a seed, it reaches for the sky
That's just the way it is, girl with you and I
Like coffee needs a cup you know that it ain't much good without it
We were meant to be together, no doubt about it
No there ain't no doubt about it
Like a hammer and a nail, socks and shoes
We go hand in hand, like a rhythm and blues
What good is a man who hasn't got a dream
'Bout as good as a car with no gasoline
You're the one I'm dreaming of got to have your love can't live without it
We were meant to be together, no doubt about it