Buck Owens – I Don't Care: A Timeless Country Music Classic
Are you a fan of country music? If so, you're in for a treat! In this article, we'll explore the iconic song "I Don't Care" by Buck Owens. This classic track, released in 1964, has stood the test of time and continues to captivate audiences with its heartfelt lyrics and infectious melodies. Join us as we delve into the meaning behind the song, its chart success, and the talented artist behind it.
The Story Behind "I Don't Care"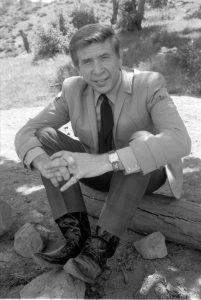 "I Don't Care" is a country music gem that was written and recorded by Buck Owens. This timeless track was released in August 1964 and quickly became a chart-topping success. The song showcases Owens' signature sound, blending traditional country elements with a touch of rock and roll. Its catchy rhythm and relatable lyrics struck a chord with listeners, making it an instant favorite.
The Meaning of "I Don't Care"
At its core, "I Don't Care" is a song about love and acceptance. The lyrics express a sentiment of indifference towards the opinions and judgments of others. It conveys the message that as long as love is present, everything else becomes insignificant. This timeless theme resonates with audiences of all generations, making the song a true country music classic.
Buck Owens: A Country Music Legend
Buck Owens, born Alvis Edgar Owens Jr., was an American singer, songwriter, and guitarist. He was a pioneer of the Bakersfield sound, a subgenre of country music that emerged in the 1950s and 1960s. With his distinctive twangy vocals and energetic stage presence, Owens became one of the most influential artists in the history of country music.
Throughout his career, Owens released numerous chart-topping hits and earned multiple awards and accolades. His contributions to the genre continue to inspire aspiring musicians and country music enthusiasts to this day. Buck Owens' legacy as a country music legend is undeniable.
Key Details about "I Don't Care"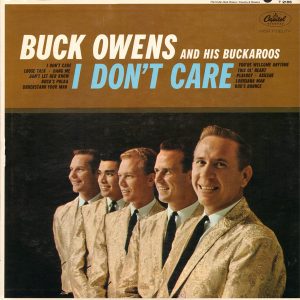 Was recorded by Buck Owens in August 3, 1964, and it instantly became a standout track on his album "I Don't Care". The song's meaningful lyrics and Owens' heartfelt delivery struck a chord with listeners, propelling it to the top of the country music charts.
The song was written by Buck Owens, a talented wordsmith who managed to capture the essence of love and heartache in a simple yet profound way. The producer of this masterpiece was Ken Nelson, whose expert touch helped shape the song's timeless sound.
Conclusion
"I Don't Care" by Buck Owens is a timeless country music classic that continues to captivate audiences with its heartfelt lyrics and infectious melodies. This iconic song, recorded in 1964, showcases Owens' unique sound and his ability to convey powerful emotions through his music. As we delve into the meaning behind the song and explore Buck Owens' remarkable career, we gain a deeper appreciation for the impact he has had on the country music genre. So sit back, relax, and enjoy the timeless sounds of Buck Owens' "I Don't Care."
Buck Owens – I Don't Care (Just as Long as You Love Me) Lyrics
Well, I don't care if the sun don't shine
I don't care if the bells don't chime
Just as long as you love me
And I don't care if the tops don't spin
I don't care if the gins won't gin
Just as long as you love me
So darling, let it rain, let it snow
Let the cold north wind blow
Just as long as you love me
North or south, east or west
You know I will stand the test
Just as long as you love me
Well, I don't care if the birds don't sing
I don't care if the bells don't ring
Just as long as you love me
I don't care if the world don't turn
I don't care if the fire don't burn
Just as long as you love me
So darling, let it rain, let it snow
Let the cold north wind blow
Just as long as you love me
North or south, east or west
You know I will stand the test
Just as long as you love me
Oh darling, just as long as you love me