Mickey Gilley – City Lights, is an American country music song written by Bill Anderson on August 27, 1957. He recorded it on a small Texas label called TNT Records in early 1958 to little acclaim. The song was first cut by Anderson in 1957 at the campus of the University of Georgia. In June 1958, Ray Price recorded it and his version hit number 1 on the Billboard Hot Country Songs singles chart in August 1958. Mickey Gilley's version also hit number 1 in June 1975.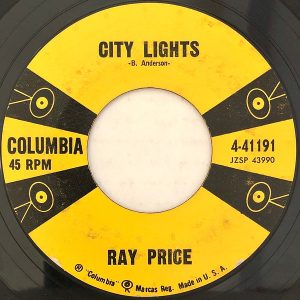 Was one of Anderson's earliest major successes. Released in June 1958, Price's version of "City Lights" stalled at #2 on the Billboard magazine Most Played C&W by Disc Jockeys chart later that summer. When Billboard introduced its all-encompassing chart for country music (called "Hot C&W Sides") on October 20, "City Lights" was the new chart's first #1 song. It remained atop the chart for 13 weeks, its last week being January 12, 1959. The song spent a total of 34 weeks on the chart. The song was popular enough to cross over to US Hot 100, where it peaked at #71.
Mickey Gilley recorded a piano-backed honky-tonk rendition on his 1975 album, City Lights, and his version hit number 1 on the country charts in February 1975.
Mickey Gilley – City Lights
From the album City Lights
B-side "Fraulein"
Released November 1974 (U.S.)
Recorded 1974
Genre Country
Length 2:48
Label Playboy 6015
Songwriter(s) Bill Anderson
Producer(s) Eddie Kilroy
Mickey Gilley – City Lights Lyrics
A bright array of city lights
As far as I can see
There great white wave shines through the night
On lonely guys like me
The cabaret's and honky tonks
The flashing signs and lights
The broken heart to lose itself
In the glow of city lights
Lights that say forgive her now
In a glass of sherry wine
The lights that offer other girls
For empty hearts like mine
They paint a pretty picture
Of a world that's gay and bright
And it's just a mask for lonliness
Behind those city lights
The world was dark
God made the stars to brighten up the night
But the guy that put those stars above
I don't believe he made those lights
It's just a place for me to cry
When things don't turn out right
Just a place to run away and hide
Behind those city lights
Lights that say forget her love
In a different atmosphere
Lights that lure are nothing but
A masquerade for tears
They paint a pretty picture
Of two arms that hold you tight
And I just can't say that I love you
To a street of city lights
No, I just can't say that I love you
To a street of city lights…