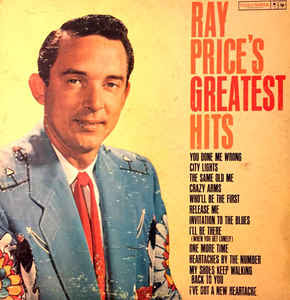 "City Lights", a song written by Bill Anderson, was recorded by Ray Price for the Columbia label on May 29, 1958, at Bradley Film and Recording Studio, 804 16th Ave. South, Nashville, TN. At the recording session Ray was accompanied by: Ray Edenton (guitar), Roger Miller (guitar), Samuel Pruett (guitar), Jimmy Day (steel), Bob Moore (bass), Buddy Harman (drums), Tommy Jackson (fiddle) and Floyd Cramer (piano). The song was released with the production of Don Law, on June 9, 1958. On October 20, 1958, it reached # 1 on the US Hot Country Songs charts, for thirteen consecutive weeks, and remained a total of 21 weeks on the charts. It was the third number one in Ray Price's career.
The song was included on Ray Price's first compilation album, Ray Price's Greatest Hits (Columbia 1961), the album was released in March 1961.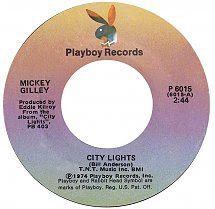 About the song:
City Lights, was recorded for the first time in the late summer of 1957, at the TV studio on campus of the University of Georgia, Atlanta. GA, and was released in March 1958. Price's version of "City Lights" stalled at No. 2 on Billboard magazine's C&W Most Played by Disc Jockeys list later that summer. When Billboard released its full country music chart (called "Hot C&W Sides") on October 20, "City Lights" was the first No. 1 song on the new chart. It remained at the top of the list for 13 weeks, its last week being January 12, 1959.
The song again reached number # 1, with the Mickey Gilley version, recorded on the Playboy label, in September 1974, and released in November 1974, reached number # 1, on February 1, 1975, and remained a total of 12 weeks on the charts.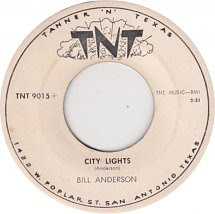 Some versions:
Dave Rich 1958 (RCA)
Don Rondo 1958 (Jubilee Records)
Ivory Joe Hunter 1958 ( Dot Records )
Ferlin Husky 1963 (Capitol)
Jimmie Rodgers 1964 (Dot Records)
Connie Smith 1967 (RCA)
Bill Phillips 1967 (Decca)
Conway Twitty 1969 (Decca)
Johnny Bush 1971 (Stop Records)
Faron Young 1977 (Mercury)
Rick Trevino 1998 (Columbia)
Willie Nelson 2016 (Legacy)




Ray Price – City Lights Lyrics
A bright array of city lights as far as I can see
The great white way shines through the night for lonely guys like me
The cabarets and honky tonks their flashing signs invite
A broken heart to lose itself in the glow of city lights
Lights that say forget her name in a glass of cherry wine
Lights that offer other girls for empty hearts like mine
They paint a pretty picture of a world that's gay and bright
But it's just a mask for loneliness behind those city lights
The world was dark and God made stars to brighten up the night
The God who put the stars above I don't believe made those lights
Oh it's just a place for men to cry when things don't turn out right
Just a place to run away and hide behind those city lights
Lights that say forget her love in a different atmosphere
Lights that lure are nothing but a masquerade for tears
They paint a pretty picture but my arms can't hold them tight
And I just can't say I love you to a street of city lights