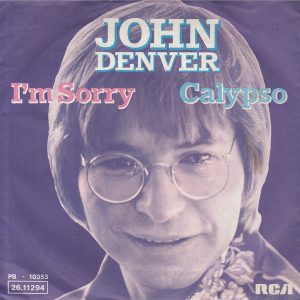 John Denver – I'm Sorry, is a song written and recorded by American country-folk singer-songwriter John Denver. Released in 1975, it was his final number-one pop hit released during his career.
Cash Box said it «is replete with the classic Denver touches: sweet arrangement by Lee Holdridge, and emotive lyrics.
The song, which is an apology for forsaken love, «I'm Sorry» reached number one on the Billboard Hot 100 chart on September 27, 1975, as well as reaching number one on the Easy Listening chart. Six weeks after topping the pop chart, the song was Denver's third and final number one on the Billboard Hot Country Singles chart.
John Denver – I'm Sorry
From the album Windsong
B-side «Calypso»
Released July 1975 (US)
Recorded 1975
Genre Folk, country, pop
Length 3:32
Label RCA Victor
Songwriter(s) John Denver
Producer(s) Milton Okun
I'm Sorry Lyrics
[Verse 1]
It's cold here in the city
It always seems that way
And I've been thinking about you
Almost everyday
Thinking about the good times
Thinking about the rain
Thinking about how bad it feels
Alone again
[Chorus]
I'm sorry for the way things are in China
I'm sorry things ain't what they used to be
But more than anything else, I'm sorry for myself
'Cause you're not here with me
[Verse 2]
Our friends all ask about you, I say you're doing fine
And I expect to hear from you almost anytime
But they all know I'm crying and I can't sleep at night
They all know I'm dying down deep inside
[Chorus]
I'm sorry for all the lies I've told you
I'm sorry for the things I didn't say
But more than anything else
I'm sorry for myself
I can't believe you went away
[Instrumental Break]
[Chorus]
I'm sorry
If I took some things for granted
I'm sorry
For the chains I put on you
But more than anything else
I'm sorry for myself
For living without you
It's cold here in the city
It always seems that way
And I've been thinking about you almost every day