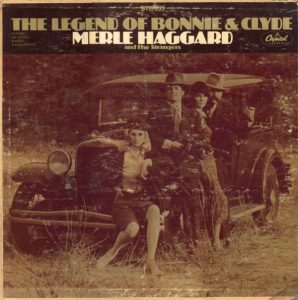 "The Legend of Bonnie and Clyde'" is a song written by American country music artists Merle Haggard and Bonnie Owens and performed by Haggard and The Strangers. It was released in January 1968 as the first single and title track from the album The Legend of Bonnie and Clyde. The song was Haggard and The Strangers fourth number one on the U.S. country singles chart. The single spent two weeks at number one and a total of 14 weeks on the country chart.
From the album The Legend of Bonnie & Clyde
B-side "Today I Started Loving You Again"
Released February 1968
Recorded January 31, 1968 ("The Legend of Bonnie and Clyde")
Genre Country
Length 2:06
Label Capitol
Songwriter(s) Merle Haggard. Bonnie Owens
Producer(s) Ken Nelson
Merle Haggard – The Legend of Bonnie & Clyde Lyrics
Bonnie was a waitress in a small cafe
Clyde Barrow was the rounder that took her away
They both robbed and killed until both of them died
So goes the Legend of Bonnie and Clyde.
The poems that she wrote of the life that they led
Told of the lawmen left dying or dead
Some say that Clyde made her life a shame
But the legend made Bonnie the head of the game.
The rampage grew wilder with each passing day
The odds growing smaller with each get-a-way
With the end growing closer the harder they fought
With blood on their hands they were bound to get caught.
They drove back from town on one bright summer day
When a man they befriended stepped out in the way
With no thought of dyin' they pulled to the side
But death lay there waiting for Bonnie and Clyde.
Two years or runnin' was ended that day
For robbin' and killin' they both had to pay
But we'll always remember how they lived and died
So goes the legend of Bonnie and Clyde.
Bonnie and Clyde…