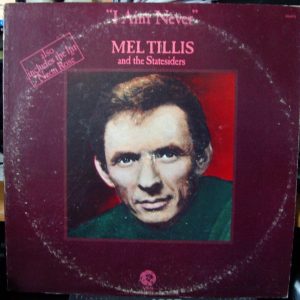 Mel Tillis – I Ain't Never, is a song co-written by American country music artists Webb Pierce and Mel Tillis. Each co-writer recorded the song separately, with both Pierce's (1959), and years later Tillis's (1972), versions resulting in major hits.
According to Tillis, he wrote the song himself, and agreed to credit Pierce as a co-writer in exchange for a pair of boots Pierce was wearing when Tillis pitched him the song. In Tillis's words, "Them old boots cost me over eight hundred thousand dollars" in royalties.
Tillis's 1972 recording of the song was his first No. 1 hit on the Billboard Hot Country Singles (now Hot Country Songs) charts. The success of this version was limited to country music stations.
Mel Tillis – I Ain't Never
from the album I Ain't Never
B-side "Burden Of Love"
Released July 1972
Recorded May 26, 1972
Genre Country
Length 2:09
Label MGM 14418
Songwriter(s) Mel Tillis and Webb Pierce
Producer(s) Jim Vienneau
Mel Tillis – I Ain't Never Lyrics
[Chorus]
Well, I ain't never, I ain't never
Seen nobody like you, no, no, no
Never have I ever
Seen nobody like you
[Verse 1]
Lord, you call me up and say, "Meet me at nine
I'll have to hurry, hurry, but I'm there on time
I walk right up and I knock on your door
The landlord says, "She ain't a-here no more"
[Chorus]
I ain't never, oh, darlin'
Seen nobody like you, woop-woop
But I love you, god, I love you, girl
I love you just the same
[Instrumental Break]
[Verse 2]
Well, you tell me sweet things that you don't mean
You got me living in a haunted dream
You make me do things I don't wanna do
My friends ask me, "Tillis, what's wrong with you"
[Chorus]
I ain't never, oh, darlin'
Seen nobody like you, woop-woop
But I love you, god, I love you, girl
I love you just the same
Love you just the same
Love you just the same