"Indian Love Call", a song written by Rudolf Friml, Otto Harbach and Oscar Hammerstein II . The First live performance on September 2, 1924 , by Mary Ellis and Dennis King .Was recorded by Slim Whitman for the Imperial label, in May 1952, at KWKH Radio Station Studio, 509 Market St., Shreveport, LA. In the same session, "China Doll" was also recorded. Slim was accompanied on the recording by: Curly Hendon, Hoot Rains (Steel), Curly Harris and Sonny Harville (Bass). The song reached # 2 on the country & western charts.
The song was included on Slim's second studio album Favorites (Imperial 1954).
About the song:
"Indian Love Call" (first published as "The Call") is a popular song from Rose-Marie, a 1924 operetta-style Broadway musical with music by Rudolf Friml and Herbert Stothart, and book and lyrics by Otto Harbach and Oscar Hammerstein II Originally written for Mary Ellis, the song achieved continued popularity under other artists and has been called Friml's best remembered work.
The play takes place within the Canadian Rocky Mountains and features the sonorous tune in the overture and in Act One while the love interests call to each other per a supposed Aboriginal Canadian legend about how men would call down into the valley to the girls they wished to marry. In most (or all) versions of Rose-Marie, including the best-known movie version, the tune is reprised several times throughout the narrative.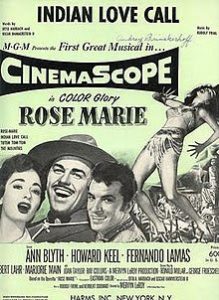 Some versions :
Yvette Rugel 1925 ( Domino )
Willie Creager & His Orchestra 1925 ( Gennett )
Rudolf Friml 1930 ( Victor )
Jimmie Fair 1952 ( Big 4 Hits )
The Four Horsemen 1952 ( MGM )
Leona Anderson 1956 ( Unique Records )
Wilburn Brothers 1958 ( Decca )
Ray Charles 1969 ( ABC Records )
Ray Stevens 1975 ( Barnaby Records )
Ramsey Kearney 1985 ( Nashco Records )
Wylie & The Wild West 2014 ( Hi-Line Records )
…more than 100 versions.




Slim Whitman – Indian Love Call Lyrics
Oo-Oo-Oo-Oo, Oo-Oo-Oo-Oo
When I'm calling you
Oo-Oo-Oo-Oo, Oo-Oo-Oo-Oo
Will you answer too?
Oo-Oo-Oo-Oo, Oo-Oo-Oo-Oo
That means I offer my life to you to be my own
If you refuse me I will be blue, waiting all alone
But if when you hear my love call ringing clear
Oo-Oo-Oo-Oo, Oo-Oo-Oo-Oo
And I hear your answering echo so dear
Oo-Oo-Oo-Oo, Oo-Oo-Oo-Oo
Then I will know our love will become true
You'll belong to me and I'll belong to you
Then I will know our love will become true
You'll belong to me and I'll belong to you