Sonny James – That's Why I Love You Like I Do, is a song country music song originally made famous by Sonny James. The song had two runs of popularity for James, one in 1956 and the other in 1972, each under a different title and with a distinctive arrangement.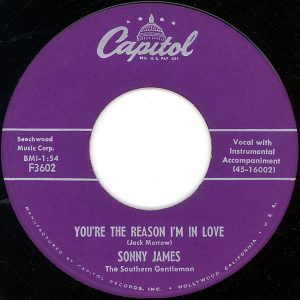 James' original version was recorded in 1956 as "You're the Reason I'm In Love," for the beginning line of the refrain. An electric guitar-heavy, slow-tempoed song, "You're the Reason …"
In 1971 re-recorded "You're the Reason …" in a faster-tempoed rendition, complete with a horn section. The new version was retitled "That's Why I Love You Like I Do" (for the last line in the refrain), and was released in April. By mid-June, James had returned to the top of the Billboard country chart.
The song became James' 22nd No. 1 hit; had "Only Love Can Break a Heart" reached the top, "That's Why I Love You …" would have been his 18th straight No. 1 song. It was also James' final No. 1 hit — and major hit — for Capitol Records; during 1972, he signed a contract with Columbia Records, where he had two more No. 1 hits (including the follow-up, "When the Snow is on the Roses") and several more Top 10 hits.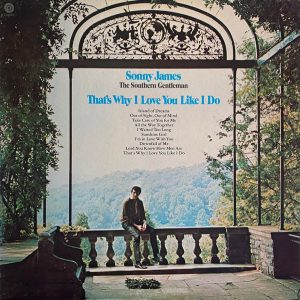 Sonny James – That's Why I Love You Like I Do
from the album That's Why I Love You Like I Do
B-side "Still Waters Run Deep"
Released April 1972
Recorded November 20, 1968
March 1969 and December 1969,
March 1972 (overdubs)
Genre Country
Length 2:44
Label Capitol
Songwriter(s) Jack Morrow
Producer(s) Kelso Herston
Sonny James – That's Why I Love You Like I Do Lyrics
You're the reason I'm in love
You're my shining star above
You're my every dream come true
That's why I love you like I do
Adam shared his love with Eve
Some may doubt but I believe
I would give my life for you
That's why I love you like I do
Man wasn't meant to be alone
He needs a girl to call his own
The only girl for me is you
That's why I love you like I do
You're the reason I'm in love
You're my shining star above
You're my every dream come true
That's why I love you like I do