«Big Iron» is a country ballad written and performed by Marty Robbins, originally released as an album track on Gunfighter Ballads and Trail Songs in September 1959, then as a single in February 1960 with the song «Saddle Tramp» as the B-side single. Members of the Western Writers of America chose it as one of the Top 100 Western songs of all time.
It tells the story of an Arizona Ranger's duel with a 24-year-old outlaw named Texas Red in the «town of Agua Fria». The townspeople predict the death of the ranger; an unconcerned Texas Red having already killed «one and nineteen men», but at the moment they meet, the ranger kills Texas Red with the swiftness of the «big iron on his hip.» Texas Red hadn't even «cleared leather,» a slang for drawing your firearm out of its holster. The ranger's draw was that swift, and one bullet was enough to finish the outlaw off.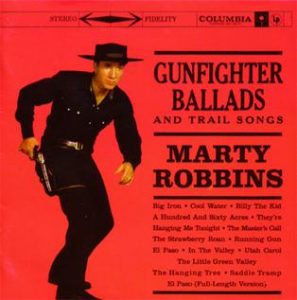 Robbins's version of the song reached #5 on the Billboard Country chart and #26 on the Billboard Hot 100 chart in April 1960. The b-side, «Saddle Tramp» was not included on its a-side's parent album, but was later placed on Robbins' 1966 LP The Drifter.
The song is also featured in the video game Fallout: New Vegas on the in-game radio stations, 'Mojave Music Radio', 'Black Mountain Radio' and 'Radio New Vegas'. The popularity of the game helped spur a revival of interest in Robbins' music in the 21st century. In the decade following the video game's release, «Big Iron» became an internet meme, gaining popularity through remixes and Photoshop parodies as well as its use on YouTube.




B-side «Saddle Tramp»
Released February 22, 1960[1]
Recorded April 1959
Genre Country Tex-Mex
Length 3:56
Label Columbia
Songwriter(s) Marty Robbins
Producer(s) Don Law
Marty Robbins – Big Iron Lyrics
To the town of Agua Fria rode a stranger one fine day
Hardly spoke to folks around him didn't have too much to say
No one dared to ask his business no one dared to make a slip
For the stranger there among them had a big iron on his hip
Big iron on his hip
It was early in the morning when he rode into the town
He came riding from the south side slowly lookin' all around
He's an outlaw loose and running came the whisper from each lip
And he's here to do some business with the big iron on his hip
Big iron on his hip
In this town there lived an outlaw by the name of Texas Red
Many men had tried to take him and that many men were dead
He was vicious and a killer though a youth of twenty four
And the notches on his pistol numbered one and nineteen more
One and nineteen more
Now the stranger started talking made it plain to folks around
Was an Arizona ranger wouldn't be too long in town
He came here to take an outlaw back alive or maybe dead
And he said it didn't matter he was after Texas Red
After Texas Red
Wasn't long before the story was relayed to Texas Red
But the outlaw didn't worry men that tried before were dead
Twenty men had tried to take him twenty men had made a slip
Twenty one would be the ranger with the big iron on his hip
Big iron on his hip
The morning passed so quickly it was time for them to meet
It was twenty past eleven when they walked out in the street
Folks were watching from the windows every-body held their breath
They knew this handsome ranger was about to meet his death
About to meet his death
There was forty feet between them when they stopped to make their play
And the swiftness of the ranger is still talked about today
Texas Red had not cleared leather fore a bullet fairly ripped
And the ranger's aim was deadly with the big iron on his hip
Big iron on his hip
It was over in a moment and the folks had gathered round
There before them lay the body of the outlaw on the ground
Oh he might have went on living but he made one fatal slip
When he tried to match the ranger with the big iron on his hip
Big iron on his hip
Big iron Big iron
When he tried to match the ranger with the big iron on his hip
Big iron on his hip