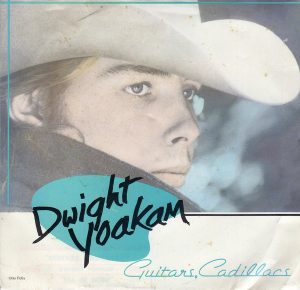 "Guitars, Cadillacs" is a song written and recorded by American country music artist Dwight Yoakam. It was released in June 1986 as the second single and partial title track from his debut album Guitars, Cadillacs, Etc., Etc.. It peaked at number 4 in the United States, and number 2 in Canada.
Larry Flick, of Billboard magazine reviewed the song favorably, saying that "walking bass, twangy guitar, fiddle, and Yoakam's voice make it a pure hillbilly delight."
In June 2014, Rolling Stone magazine ranked "Guitars, Cadillacs" #94 in their list of the 100 greatest country songs.




B-side "I'll Be Gone"
Released June 30, 1986
Recorded 1986
Genre Country
Length 3:02
Label Reprise 728688
Songwriter(s) Dwight Yoakam
Producer(s) Pete Anderson
Dwight Yoakam – Guitars , Cadillacs lyrics
Girl you taught me how to hurt real bad and cry myself to sleep
And showed me how this town can shatter dreams
Another lesson 'bout a naive fool who came to Babylon
And found out that the pie don't taste so sweet
Now it's guitars, Cadillacs, hillbilly music
Lonely, lonely streets that I call home
Yeah, my guitars, Cadillacs, hillbilly music
It's the only thing that keeps me hangin' on
Ain't no glamour in this tinseled land of lost and wasted lives
Painful scars are all that's left of me
Oh, but thank you girl for teachin' me brand new ways to be cruel
If I can find my mind now I guess I'll just leave
And it's guitars, Cadillacs, hillbilly music
Lonely, lonely streets that I call home
Yeah, my guitars, Cadillacs, hillbilly music
It's the only thing that keeps me hangin' on
Oh it's guitars, Cadillacs, hillbilly music
Lonely, lonely streets that I call home
Yeah, my guitars, Cadillacs, hillbilly music
It's the only thing that keeps me hangin' on
It's the only thing that keeps me hangin' on
It's the only thing that keeps me hangin' on