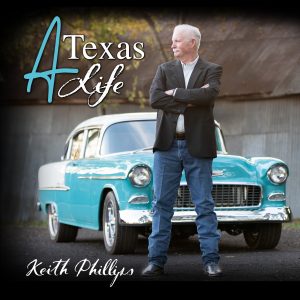 Keith Phillips – A Texas Life, Keith Phillips' newest release is an adroit mix of what would now be called "True" Country, a couple of nice Western songs and plenty of Western Swing tracks, all with top-notch production values. And Phillips' fine baritone voice sells his songs well.
Although the message contained in "Ridin' For The Brand" is unmistakable the song still manages to not proselytize. Other picks include the wistful Western tune "Old Pony" and the spirited Western Swing entries "Live Oak Tree," "Give It Hell Tomorrow," "Honky Tonk School" and "Look Right Here At Me." He also swings a final track "When You Say Merry Christmas." A couple of other noteworthy tracks include tributes to a fallen missionary soldier and departed Houston firefighters.
Keith Phillips is an artist who is firmly in control of his crafts if songwriting and performing. We'll be eagerly watching for more Western observations from him. Twelve tracks, highly recommended.
CD: (downloads through deezer.com/en/artist/1135900)
– by Rick Huff
Keith Phillips – A Texas Life
Track List
1 – Sunday's Coming
2 – Ridin' for the Brand
3 – A Bible and a Gun
4 – The Live Oak Tree
5 – Fire Trucks in Heaven
6 – Give It Hell Tomorrow
7 – Mama Onmy Mind
8 – Old Pony PREVIEW
9 – Dance Away with Me Tonight
10 – Honky Tonk School
11 – Look Right Here at Me
12 – When You Say Merry Christmas