Jerry Reed – Are You From Dixie ('Cause I'm from Dixie Too), is a song written by lyricist Jack Yellen and composer George L. Cobb, who teamed up to create several Vaudeville-era songs celebrating the American South. It was originally recorded by Billy Murray in 1916.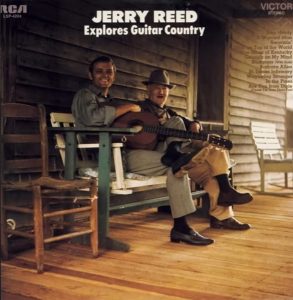 The song has been covered by many pop and country artists. One of the most successful recordings was by American country music artist Jerry Reed. His version was released in August 1969 as the only single from his album, Jerry Reed Explores Guitar Country. The song reached a peak of #11 on the U.S. Billboard Hot Country Singles chart.
The song is part of tradition at the University of Southern Mississippi. It is regularly played as a part of the Pride of Mississippi Marching Band's repertoire, being played after every extra point in a Southern Miss Golden Eagles football game.
Jerry Reed – Are You From Dixie ('Cause I'm from Dixie Too)
From the album Jerry Reed Explores Guitar Country
B-side "A Worried Man"
Released August 4, 1969
Genre Country
Label RCA Records
Songwriter(s) Jack Yellen, George L. Cobb
Producer(s) Chet Atkins
Jerry Reed – Are You From Dixie Lyrics
Hello, there, stranger! how do you do?
There's something I'd like to say to you
Don't be surprised
You're recognized!
I'm no detective but I've just surmised
You're from the place where I long to be
Your smiling face seems to say to me
You're from my own land
My sunny homeland
Tell me can it be?
It was a way back in eighty nine
I crossed the old Mason Dixon line
Gee! but I've yearned
Longed to return
To all the good old pals I left behind
My home is way down in Alabam'
On a plantation near Birmingham
And one thing's certain
I'm surely flirtin'
With those southbound trains:
Are you from Dixie?
I said from Dixie!
Where the fields of cotton beckon to me
I'm glad to see you
Tell me how be you
And the friends I'm longing to see
If you're from Alabama, Tennessee or Caroline
Any place below the Mason Dixon line
Then you're from Dixie
Hurrary for Dixie!
'Cause I'm from Dixie too!