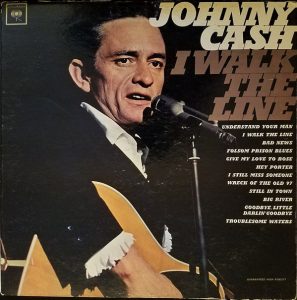 "Understand Your Man" is a song written and recorded by American singer Johnny Cash It was released in January 1964 as the first single from the album I Walk the Line. The single went to number one on the country charts for six weeks. The song also crossed over to the Top 40, peaking at number 35.
Cash borrowed parts of the melody from Bob Dylan's "Don't Think Twice, It's All Right".
It was also the last song Cash ever performed in front of an audience. It was the last song in his performance at the Carter Family Fold in Hiltons, Virginia, on 5 July 2003. Prior to singing it, Cash told the audience that at that point he had not performed it live in 25 years. (It was not, however, the final song he ever sang as, despite failing health, he continued to make studio recordings until late August 2003, shortly before his death.)




From the album I Walk the Line
B-side "Dark as a Dungeon"
Released January 1964
Recorded June 1963
Genre Country, folk
Length 2:42
Label Columbia
Songwriter(s) Johnny Cash
Producer(s) Don Law. Frank Jones
Johnny Cash – Understand Your Man Lyrics
Don't call my name out your window, I'm leavin'
I won't even turn my head.
Don't send your kinfolk to give me no talkin'
I'll be gone, like I said.
You'd just say the same old things
That you be sayin'all along,
Just lay there in your bed and keep your mouth shut,
Till I'm gone.
Don't give me that old familiar cry and fuss and moan
Understand your man.
I'm tired of your bad mouthing
Understand your man.
Now, you can give my other suit to the Salvation Army,
And everything else I leave behind —
I ain't taking nothing that'll slow down my traveling
While I'm untangling my mind.
I ain't gonna repeat what i said anymore.
While I'm breathing air that ain't been breathed before
I'll be as gone as the wild gruesome winter
Then you'll understand your man
Meditate on it
You hear me talking now
Understand your man
Remember what i told ya
Understand your man.