"Big Bad John", a song written by Roy Acuff and Jimmy Dean, was first recorded by Jimmy Dean for the Columbia label, on August 18, 1961, at Bradley Film and Recording Studio, 804 16th Ave. South, Nashville, TN. In the same recording session, two more songs were recorded: "ABILENE" and · "I WON'T GO HUNTIN 'WITH YOU, JAKE". Jimmy Dean was accompanied on the recording by: Grady Martin (guitar), Harold Bradley (guitar), Ray Edenton (guitar), Walter Haynes (steel), Joseph Zinkan (bass), Buddy Harman (drums) and Floyd Cramer (piano) The song was released on September 22, 1961, and produced by Don Law. On November 20, 1961, it reached number # 1 on the Country & Western charts for two consecutive weeks. It also reached number # 1 in New Zealand, and number two on the British pop charts.
"Big Bad John" was the first # 1 number in Jimmy Dean's career. The song received a Grammy nomination for Record of the Year, while Dean's performance of the song earned him a nomination for Best Male Solo Vocal Performance, and Dean won Grammy Award for Best Country & Western Recording.
The song was included on Jimmy Dean's sixth studio album Big Bad John and Other Fabulous Songs and Tales (Columbia 1961).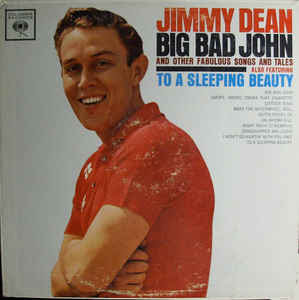 About the song:
The song tells the story of a mysterious and silent miner who earned the nickname Big John for his height, weight, and muscular physique. ("He was six foot six and weighed 245"). He allegedly came from New Orleans, where, with "a thunderous blow from a huge right hand" , he allegedly killed a man by a Cajun Queen.
One day, a support wood cracked in the mine where John worked. The situation seemed hopeless until John "grabbed a fallen wood, gave up with a groan / and like a giant oak stood there alone", then "gave a strong push", opening a passage and allowing the other 20 miners to escape. Sheet. Just as the other miners were about to re-enter the mine with the necessary tools to save him, the mine completely collapsed and John is believed to have died deep within the mine. The mine itself was never reopened, but a marble stand was placed in front of it, with the words "At the bottom of this mine lies an incredible man: Big John." (Some versions of the song change the last line to "lies a great, great man" to replace what was considered profane language).
Bobby Stevens 1961 (Embassy)
The Four Saints 1961 (Pathé)
Wink Martindale 1961 (Dot records)
The Four Lads 1962 (Dot records)
Homer & Jethro 1962 (RCA Victor)
Jim Ed Brown 1968 (RCA Victor)
Henson Cargill 1968 (Monument)
The Barron Knights 1986 (Wea)
The Charlie Daniels Band 1988 (Epic)
Adam Harvey 1995 (PMI)
Jimmy Dean – Big Bad John Lyrics
[Intro]
(Big John)
(Big John)
[Verse 1]
Ev'ry mornin' at the mine you could see him arrive
He stood six foot six and weighed two forty five
Kinda broad at the shoulder and narrow at the hip
And everybody knew, ya didn't give no lip to Big John
[Chorus]
(Big John, Big John)
Big Bad John
(Big John)
[Verse 2]
Nobody seemed to know where John called home
He just drifted into town and stayed all alone
He didn't say much, he kinda quiet and shy
And if you spoke at all, he just said, "Hi" to Big John
[Verse 3]
Somebody said he came from New Orleans
Where he got in a fight over a Cajun Queen
And a crashin' blow from a huge right hand
Sent a Louisiana fellow to the Promised Land, Big John
[Chorus]
(Big John, Big John)
Big Bad John
(Big John)
[Verse 4]
Then came the day at the bottom of the mine
When a timber cracked and men started cryin'
Miners were prayin' and hearts beat fast
And everybody thought that they'd breathed their last, 'cept John
[Verse 5]
Through the dust and the smoke of this man made hell
Walked a giant of a man that the miners knew well
Grabbed a saggin' timber, gave out with a groan
And like a giant Oak tree, he just stood there alone, Big John
[Chorus]
(Big John, Big John)
Big Bad John
(Big John)
[Verse 6]
And with all of his strength he gave a mighty shove
Then a miner yelled out, "There's a light up above"
And twenty men scrambled from a would-be grave
Now there's only one left down there to save, Big John
[Verse 7]
With jacks and timbers they started back down
Then came that rumble way down in the ground
And then smoke and gas belched out of that mine
Everybody knew it was the end of the line for Big John
[Chorus]
(Big John, Big John)
Big Bad John
(Big John)
[Verse 8]
Now they never reopened that worthless pit
They just placed a marble stand in front of it
These few words are written on that stand
At the bottom of this mine lies a big, big man, Big John
[Chorus]
(Big John, Big John)
Big Bad John
(Big John)
(Big John)
Big Bad John
(Big John)