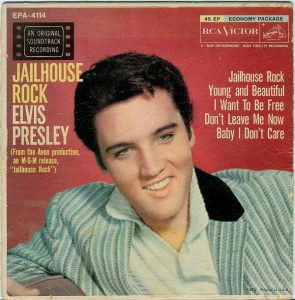 "Jailhouse Rock" is a song written by Jerry Leiber and Mike Stoller that first became a hit for Elvis Presley. RCA Victor released the song on a 45 rpm single on September 24, 1957, the song had a film release of Presley's motion picture under the same name, Jailhouse Rock.
Rolling Stone magazine included it at number 67 on its list of The 500 Greatest Songs of All Time and was named one of The Rock and Roll Hall of Fame's 500 Songs that Shaped Rock and Roll. In 2004, it finished at number 21 on AFI's 100 Years…100 Songs survey of top tunes in American cinema. On November 27, 2016, the Grammy Hall of Fame announced its induction, along with that of another 24 songs.
Presley's performance of the song in the film, choreographed as a dance routine involving himself and a large group of male prisoners, was featured among other classic MGM musical numbers in the 1994 documentary That's Entertainment! III. The film version differs from the single version of the song, featuring backing instrumentation and vocals not heard on the record.




B-side "Treat Me Nice"
Released September 24, 1957
Recorded April 30, 1957
Studio Radio Recorders, Hollywood, California
Genre Rockabilly,[1] rock and roll
Length 2:35
Label RCA Victor
Songwriter(s) Jerry Leiber and Mike Stoller
Producer(s) Jerry Leiber, Mike Stoller
Elvis Presley – Jailhouse Rock Lyrics
[Verse 1]
The warden threw a party in the county jail
The prison band was there and they began to wail
The band was jumping and the joint began to swing
You shoulda heard those knocked out jailbirds sing
[Chorus]
Let's rock, everybody, let's rock
Everybody in the whole cell block
Was dancing to the Jailhouse Rock
[Verse 2]
Spider Murphy played the tenor saxophone
Little Joey blowing on the slide trombone
The drummer boy from Illinois went crash, boom, bang
The whole rhythm section was the Purple Gang
[Chorus]
Let's rock, everybody, let's rock
Everybody in the whole cell block
Was dancing to the Jailhouse Rock
[Verse 3]
Number forty-seven said to number three
"You the cutest jailbird I ever did see
I sure would be delighted with your company
Come on and do the Jailhouse Rock with me"
[Chorus]
Let's rock, everybody, let's rock
Everybody in the whole cell block
Was dancing to the Jailhouse Rock
Rock, rock, rock
[Verse 4]
Sad sack was sitting on a block of stone
Way over in the corner weeping all alone
The warden said, "Hey, buddy, don't you be no square
You can't find a partner, use a wooden chair"
[Chorus]
Let's rock, everybody, let's rock
Everybody in the whole cell block
Was dancing to the Jailhouse Rock
[Verse 5]
Shifty Henry said to Bugs, "For Heaven's sake
No one's looking, now's our chance to make a break"
Bugsy turned to Shifty and he said, "Nix nix
I wanna stick around a while and get my kicks."
[Chorus]
Let's rock, everybody, let's rock
Everybody in the whole cell block
Was dancing to the Jailhouse Rock