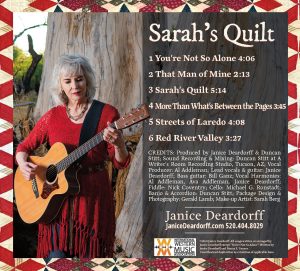 Janice Deardorff – Sarah's Quilt, The original songs created and the covers chosen for Janice Deardorff's six-song EP were inspired by events in the Sarah Agnes Prine book series. They are the creation of Arizona author Nancy E. Turner and tell the stories of her pioneering great grandmother.
While the songs are solidly meaningful within the context of the release, the content of most of them might not be immediately identified as "Western," but picks among them include the title track "Sarah's Quilt," a cover-worthy co-write by Deardorff with book series author Nancy Turner called "You're Not So Alone" and the wistful treatments of "Streets Of Laredo" and "Red River Valley"…both of which have special relevance here.


Elegant acoustic support for Deardorff and her guitar comes from Bill Ganz (bass guitar), Al & Ava Adleman (vocal harmonies), Nick Coventry (fiddle), Michael G. Ronstadt (cello) and CD co-producer Duncan Stitt (banjo & accordion). All in all, we'll name this one as Janice Deardorff's best effort to date. Recommended.
EP: $10 + $5 s/h through janicedeardorff.com
– by Rick Huff
Janice Deardorff – Sarah's Quilt