"Tanya Tucker – Delta Dawn" is a song written by former child rockabilly star Larry Collins and country and western songwriter Alex Harvey, best known as a 1972 top ten country hit for Tanya Tucker and a 1973 number one hit for Helen Reddy.
The first recording of "Delta Dawn" was made by Harvey for his eponymous album released in November 1971. Before Bette Midler's recording, Nashville-based producer Billy Sherrill heard her sing "Delta Dawn" on The Tonight Show and wanted to sign Midler to Epic Records and have her record it. Upon finding that Midler was already signed to Atlantic Records, Sherrill cut the song with Tanya Tucker, who was newly signed to Epic, and Tucker's version was released in April 1972; it reached #6 in C&W that spring.
While Harvey's original version started with the first verse, Sherrill suggested starting with the chorus instead, done a cappella – a term unknown to 13 year old Tucker.This distinction became a signature of her version.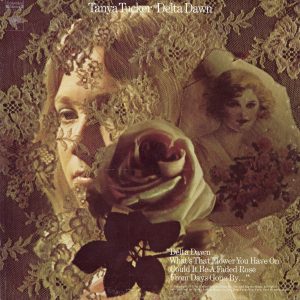 Tanya Tucker – Delta Dawn
B-side "I Love the Way He Loves Me"
Released April 10, 1972
Recorded March 17, 1972
Studio Columbia Recording Studio (Nashville)
Genre Country
Length 3:09
Label Columbia
Songwriter(s) Larry Collins Alex Harvey
Producer(s) Billy Sherrill
Tanya Tucker – Delta Dawn lyrics
Delta Dawn
What's that flower you have on?
Could it be a faded rose from days gone by?
And did I hear you say
He was meeting you here today
To take you to his mansion in the sky
She's forty-one
And her daddy still calls her baby
All the folks round Brownsville say she's crazy
Cause she walks downtown
With her suitcase in her hand
Looking for a mysterious dark haired man
In her younger days
They called her Delta Dawn
Prettiest woman you ever laid eyes on
Then a man of low degree
Stood by her side
Promised her he'd take her for his bride
Delta Dawn
What's that flower you have on?
Could it be a faded rose from days gone by?
And did I hear you say
He was meeting you here today
To take you to his mansion in the sky
Delta Dawn
What's that flower you have on?
Could it be a faded rose from days gone by?
And did I hear you say
He was meeting you here today
To take you to his mansion in the sky
Delta Dawn
What's that flower you have on?
Could it be a faded rose from days gone by?
And did I hear you say
He was meeting you here today
To take you to his mansion in the sky
Delta Dawn
What's that flower you have on?
Could it be a faded rose from days gone by?
And did I hear you say
He was meeting you here today
To take you to his mansion in the sky