«Kaw-Liga» is a country music song written by Hank Williams and Fred Rose.
The song was recorded as part of William's final recording session on September 23, 1952 at Castle Studio in Nashville. The remarkably productive session also produced «I Could Never Be Ashamed of You,» (written for his soon-to-be wife Billie Jean), «Take These Chains From My Heart» (also written by Rose), and Hank's masterpiece ballad «Your Cheatin' Heart.» More than any other song, «Kaw-Liga» bears evidence of the guiding hand of Rose, who moulded the song into nothing like Williams had recorded up to that point. It begins in a minor key, which modulates into a major key on the chorus, and also features big band drummer Farris Coursey, who had played brushes on Williams' previous song «Moanin' the Blues» and played in WSM's dance band. In addition, the song fades out, the only Hank Williams song to do so. Williams is also backed by Tommy Jackson (fiddle), Don Helms (steel guitar), Chet Atkins (lead guitar), Jack Shook (rhythm guitar), and Floyd «Lightnin'» Chance (bass). The single was released posthumously in January 1953 on the MGM Records label and it remained No. 1 on the Billboard Country chart for 14 weeks. The flipside, «Your Cheatin' Heart, remained #1 on the country chart for 6 weeks.




A demo version of Williams singing «Kaw-Liga» with just his guitar, likely recorded in 1951, is also available. On the recording, Williams flubs a chord and can be heard muttering «shit» before starting the song again.
In 1996, «Kaw-Liga» was referenced by Tracy Lawrence's single «Time Marches On», featuring the lyrics «Hank Williams sings 'Kaw-Liga' and 'Dear John' and time marches on.» «Time Marches On» held the number one spot on Billboard's Hot Country Songs chart for three weeks.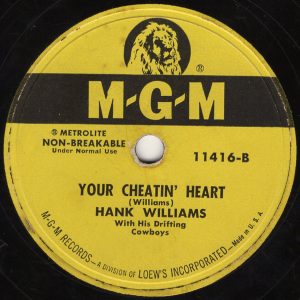 B-side «Your Cheatin' Heart»
Released January 1953
Recorded September 23, 1952
Studio Castle Studio, Nashville
Genre Country, blues, folk
Length 2:35
Label MGM
Songwriter(s) Hank Williams, Fred Rose
Hank Williams – Kaw-Liga Lyrics
KAW-LIGA, was a wooden Indian standing by the door
He fell in love with an Indian maid over in the antique store
KAW-LIGA – A, just stood there and never let it show
So she could never answer «YES» or «NO».
He always wore his Sunday feathers and held a tomahawk
The maiden wore her beads and braids and hoped someday he'd talk
KAW-LIGA – A, too stubborn to ever show a sign
Because his heart was made of knotty pine.
[Chorus:]
Poor ol' KAW-LIGA, he never got a kiss
Poor ol' KAW-LIGA, he don't know what he missed
Is it any wonder that his face is red
KAW-LIGA, that poor ol' wooden head.
KAW-LIGA, was a lonely Indian never went nowhere
His heart was set on the Indian maiden with the coal black hair
KAW-LIGA – A, just stood there and never let it show
So she could never answer «YES» or «NO».
Then one day a wealthy customer bought the Indian maid
And took her, oh, so far away, but ol' KAW-LIGA stayed
KAW-LIGA – A, just stands there as lonely as can be
And wishes he was still an old pine tree.
[Chorus]