"Singing the Blues" is a popular song written by Melvin Endsley and published in 1956. The song was first recorded and released by Marty Robbins in 1956.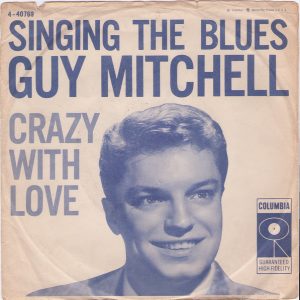 Two other charting versions of the song were released almost simultaneously with Mitchell's, one by the English singer Tommy Steele (with the Steelmen) and the other (recorded before Mitchell covered it) by US country singer Marty Robbins.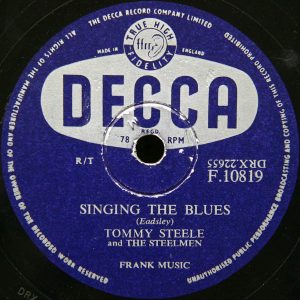 Tommy Steele's version of "Singing the Blues" made number 1 in the UK Singles Chart for one week on 11 January 1957, sandwiched by two of the weeks that Guy Mitchell's version of the same song topped the charts.Steele's recording of the song was not a chart success in the US.




The Marty Robbins version made it to number one on the Billboard C&W Best Sellers chart for 13 weeks in late 1956 and early 1957 and peaked at number seventeen on the US pop chart. In 1983, Gail Davies recorded a cover version, taking her version into the top 20 of the Hot Country Singles chart in the spring of 1983
Marty Robbins – Singing The Blues Lyrics
Well I never felt more like singing the blues
Cause I never thought that I'd ever lose
Your love dear why'd you do me this way
Well I never felt more like crying all night
Cause everything's wrong and nothing ain't right
Without you you got me singing the blues
The moon and stars no longer shine
The dream is gone I thought was mine
There's nothing left for me to do but cry over you
Well I never felt more like running away
But why should I go cause I couldn't stay
Without you you got me singing the blues
Well I never felt more like running away…