Western Swing Time October 11 !
Randy "Tex" Hill, is the creator and host of Western Swing Time Radio. A professional musician for over 40 years, Randy started playing drums as a young boy growing up on a central Texas farm approximately 30 miles south of Austin. During that time period, he was introduced to a variety of music via a stack of old 78s that belonged to his grandfather; artists like, B.B. King, Smiley Lewis, Bobby Lord, Gene Autry, The Old Smoky Twins and Lefty Frizzell. Trips to the Club 21 dance hall in nearby Uhland, Texas on Saturday nights with his parents sewed the seeds of a lifetime love of classic country music and the blues.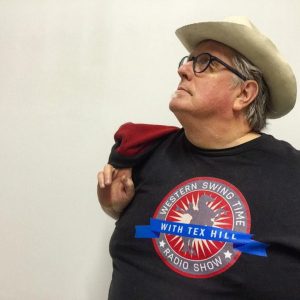 Through the years of performing, Hill has shared the stage with some of the legends of country and swing music; Johnny Rodriguez, George Strait, pedal steel legend Jimmy Day, Texas Tornados' Augie Meyers, Terri Gibbs, Stan Perkins (son of rockabilly legend, Carl Perkins), Hayden Vitera (Asleep At The Wheel) and Bobby Flores (Ray Price). He is the band leader for the Willamette Valley-based Western swing band, The Oregon Valley Boys.
Tex is the former producer and cohost of the nationally syndicated, Roadhouse Revival Radio Show and the Lone Star Revival Radio Show on KLBJ FM, Austin, Texas.
In 2018, Tex was inducted into the Sacramento Western Swing Society Hall of Fame. In 2016, Tex was awarded «DJ of The Year» by the Cowtown Western Music Society of Fort Worth Texas. In 2015, he was named one of the Top 10 DJ's in the country by the Academy of Western Artists. In 2014 Hill was inducted into the Northwest Western Swing Music Hall of Fame in Auburn, Washington.




Western Swing Time October 11/strong>