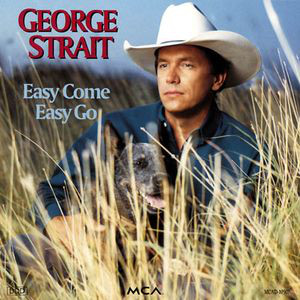 «Easy Come, Easy Go» is a song written by Aaron Barker and Dean Dillon, and recorded by American country music artist George Strait. It was released in August 1993 as the lead single from his album of the same title. The song reached the top of the Billboard Hot Country Singles & Tracks (now Hot Country Songs) chart and on the Canadian RPM Country Tracks chart. It peaked at number 71 on the U.S. Billboard Hot 100, making it a minor crossover hit.
The song debuted at number 57 on the Hot Country Singles & Tracks chart dated August 21, 1993. It charted for 20 weeks on that chart, and spent two weeks at Number One on the chart dated October 23, 1993. It also peaked at number 71 on the Billboard Hot 100, becoming Strait's first entry on that chart.




From the album Easy Come, Easy Go
B-side «She Lays It All on the Line»
Released August 9, 1993
Recorded April 22, 1993
Genre Country
Length 3:04
Label MCA54717
Songwriter(s) Aaron Barker, Dean Dillon
Producer(s) Tony Brown
George Strait – Easy Come, Easy Go Lyrics
Says she's had enough of me, I've had enough of her too.
I might as well go on and set her free, she's already turned me loose.
No fault, no blame, nobody done no wrong-
That's just the way it sometimes goes.
Sometimes two people just don't get along, it's time to hit the road.
[Chorus:]
Goodbye, farewell, so long, vaya condios.
Good luck, wish you well, take it slow.
Easy come girl, easy go.
We tried to work it out a hundred times, ninety- nine it didn't work.
I think it's best we put it all behind before we wind up getting hurt.
No hard feelings darling, no regrets,
No tears and no broken hearts.
Call it quits, calling off all bets, it just wasn't in the cards.
[Chorus]
Easy come girl, easy go.
Vaya condios, good luck,
Easy come, easy go.