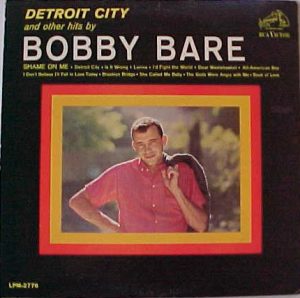 "Detroit City" is a song written by Danny Dill and Mel Tillis, made famous by Billy Grammer (as "I Wanna Go Home"),country music singer Bobby Bare and Tom Jones. Bare's version was released in 1963. The song — sometimes known as "I Wanna Go Home" (from the opening line to the refrain) — was Bare's first Top 10 hit on the Billboard Hot Country Singles chart that summer, and became a country music standard.
The song won Bobby Bare a Grammy for the Best Country & Western Recording in 1963.




From the album Detroit City and Other Hits
B-side "Heart of Ice"
Released May 1963 (U.S.)
Recorded April 18, 1963
Nashville, Tennessee
Genre Country
Length 2:47
Label RCA Victor
Songwriter(s) Danny Dill and Mel Tillis
Producer(s) Chet Atkins
Bobby Bare – Detroit City lyrics
I wanna go home, I wanna go home
Oh, how I wanna go home.
Last night I went to sleep in Detroit City
And I dreamed about those cottonfields and home
I dreamed about my mother dear, old papa, sister and brother
I dreamed about that girl who's been waiting for so long
I wanna go home, I wanna go home, oh, how I wanna go home.
Homefolks think I'm big in Detroit City
From the letters that I write they think I'm fine
But by day I make the cars, by night I make the bars
If only they could read between the lines.
'Cause you know I rode the freight train north to Detroit City
And after all these years I find I've just been wastin' my time
So I just think I'll take my foolish pride
And put it on a Southbound freight and ride.
And go on back to the loved ones, the ones that I left waitin' so far behind.
I wanna go home, I wanna go home,
Oh, how I wanna go home…