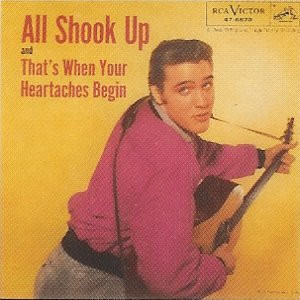 Elvis Presley – All Shook Up, is a song recorded by Elvis Presley, published by Elvis Presley Music, and composed by Otis Blackwell. The single topped the U.S. Billboard Top 100 on April 13, 1957, staying there for eight weeks. It also topped the Billboard R&B chart for four weeks, becoming Presley's second single to do so, and peaked at No. 1 on the country chart as well. It is certified 2× platinum by the Recording Industry Association of America.
It was ranked #352 on Rolling Stone's list of the 500 Greatest Songs of All Time.
On January 12, 1957, Presley recorded the song at Radio Recorders in Hollywood. The duet vocal on the record is by The Jordanaires first tenor Gordon Stoker. Take 10 was selected for release, and in March the song entered Billboard's Top 100 chart at #25. Within three weeks it had knocked Perry Como's "Round and Round" off the top spot, and stayed there for eight consecutive weeks. The song also became Presley's first No. 1 hit on the UK Singles Chart, remaining there for seven weeks. Sales of the single exceeded two million, and the song was named Billboard's Year End number one song for 1957.
Elvis Presley – All Shook Up
B-side "That's When Your Heartaches Begin"
Released March 22, 1957
Recorded January 12, 1957
Studio Radio Recorders (Hollywood)
Genre Rock and roll R&B
Length 1:57
Label RCA Victor
Songwriter(s) Otis Blackwell, Elvis Presley
Elvis Presley – All Shook Up Lyrics
[Verse 1]
Uh, well, a-bless my soul, what's wrong with me?
I'm itchin' like a man on a fuzzy tree
My friends say I'm actin' wild as a bug
I'm in love, I'm all shook up
Mm, ooh, yeah, yeah
[Verse 2]
Well, my hands are shaky and my knees are weak
I can't seem to stand on my own two feet
Who do you thank when you have such luck?
I'm in love, I'm all shook up
Mm, ooh, yeah, yeah
[Bridge]
Well, please don't ask me what's on my mind
I'm a little mixed up, but I feel fine
When I'm near the girl that I love best
My heart beats so it scares me to death
[Verse 3]
When she touched my hand, what a chill I got
Her lips are like a volcano that's hot
I'm proud to say that she's my buttercup
I'm in love, I'm all shook up
Mm, ooh, yeah, yeah
[Bridge]
My tongue gets tied when I try to speak
My insides shake like a leaf on a tree
There's only one cure for this body of mine
That's to have that girl that I love so fine
[Verse 4]
She touched my hand, what a chill I got
Her lips are like a volcano that's hot
I'm proud to say that she's my buttercup
I'm in love, I'm all shook up
Mm, ooh, yeah, yeah
[Outro]
Mm, ooh, yeah, yeah
I'm all shook up