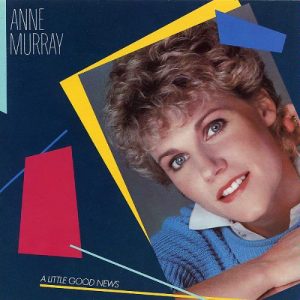 Anne Murray – A Little Good News, is a song recorded by Canadian recording artist Anne Murray. It was released in September 1983 as the lead single from the album of the same name. The song was written by Tommy Rocco, Charlie Black, and Rory Bourke and was Anne Murray's seventh #1 hit on the Billboard country chart.
In the United States, the single hit #1 Country (lasting a total of 20 weeks on the Country chart overall), #10 Adult Contemporary, and #74 Pop. The song also appears on Murray's 2007 album Anne Murray Duets: Friends & Legends, performed as a duet with the Indigo Girls.
This song was used as the opening theme to the 1984-2000 CJON-DT program of the same name (later renamed NTV.ca), but has since been removed from reruns.
Anne Murray – A Little Good News
from the album A Little Good News
B-side «I'm Not Afraid Anymore»
Released September 1983 (US)
Genre Country
Length 3:08
Label Capitol
Songwriter(s) Tommy Rocco Charlie Black Rory Bourke
Producer(s) Jim Ed Norman
Anne Murray – A Little Good News Lyrics
[Verse 1]
I rolled out this morning
The kids had the morning news show on
Bryant Gumbel was talking 'bout the fighting in Lebanon
Some Senator was squawking 'bout the bad economy
It's gonna get worse you see
We need a change in policy
[Verse 2]
There's a local paper rolled up in a rubber band
One more sad stories
One more than I can stand
Just once how I'd like to see the headline say
Not much to print today
Can't find nothing bad to say because
[Chorus]
Nobody robbed a liquor store on the lower part of town
Nobody OD'd
Nobody burned a single building down
Nobody fired a shot in anger
Nobody had to die in vain
We sure could use a little good news today
[Verse 3]
I'll come home this evening
I'll bet that the news will be the same
Somebody takes a hostage
Somebody steals a plane
How I wanna hear the anchorman talk about a county fair
And how we cleaned up the air
How everybody learned to care
Whoa, tell me
[Bridge]
Nobody was assassinated in the whole Third World today
And in the streets of Ireland
All the children had to do was play
And everybody loves everybody in the good old USA
We sure could use a little good news today
[Chorus]
Nobody robbed a liquor store on the lower part of town
Nobody OD'd
Nobody burned a single building down
Nobody fired a shot in anger
Nobody had to die in vain
We sure could use a little good news today