«Hello Trouble»: A Classic Country Hit
«Hello Trouble» is a song written by Orville Couch and Eddie McDuff and was first recorded and released by Orville Couch in 1962. Buck Owens and the Buckaroos also covered the song on the album Together Again, released in 1964.
Unveiling the Song's Message
«Hello Trouble» is a song about a tumultuous relationship that is filled with hardships and heartaches. The lyrics express the narrator's feelings of misery and heartache since their partner left, but also their mixed emotions of welcoming them back despite the trouble they bring. The song portrays the idea that sometimes people are drawn to the very things that cause them pain and trouble. Overall, the song is about the ups and downs of a difficult relationship and the conflicting emotions that come with it.
Notable Covers Of The Song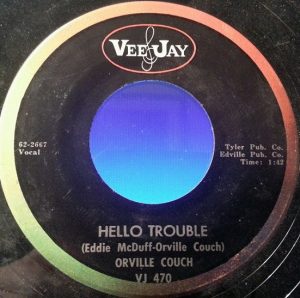 «Hello Trouble» has been covered by several artists over the years. Here are some of the notable covers of the song:
Orville Couch (original version, 1962)
Buck Owens and the Buckaroos (album Together Again, 1964)
The Desert Rose Band (album Running, 1989)
Lost & Found (album Love, Lost and Found, 1989)
Mister Jack & The Daniels (album The Best of Mister Jack & The Daniels, 1993)
The Hillsiders (album The Hillsiders, 1995)
These are just a few examples of the many covers of «Hello Trouble» that have been recorded over the years.
Buck Owens: A Country Music Legend
Buck Owens was an American musician, singer, songwriter, and band leader who was born on August 12, 1929, in Sherman, Texas, and died on March 25, 2006, in Bakersfield, California[. He was the lead singer for Buck Owens and the Buckaroos, which had 21 No. 1 hits on the Billboard country music chart. Owens pioneered what came to be called the Bakersfield sound, named in honor of Bakersfield, California, Owens's adopted home and the city from which he drew inspiration for what he preferred to call «American music».
Owens was a member of the Country Music Hall of Fame and Museum. He released many popular songs, including «Under Your Spell Again,» «Foolin' Around,» «Above and Beyond,» «Mental Cruelty,» and «Excuse Me (I Think I've Got a Heartache)». One of his most famous songs is «Together Again».
In addition to his music career, Owens also appeared in several movies and TV shows, including «The Buck Owens Ranch Show,» «Hee Haw,» and «The Beverly Hillbillies».
Buck Owens – Hello Trouble Lyrics
[Verse 1]
Woke up this morning happy as could be
Looked out my window and what did I see?
A comin' up my sidewalk just as plain as day
A well a here come trouble that I never thought I'd see when you went away
[Chorus]
Hello trouble, come on in, you talk about heartaches
Where'n the world ya been?
I ain't had the miseries since you been gone
Hello trouble, trouble, trouble, welcome home
[Instrumental Break]
[Verse 2]
We'll make a pot of coffee and you can rest your shoes
A you can tell me them sweet lies and I'll listen to you
For I'm just a little part of, of the life you've lived
But I'd rather have a little bit of trouble than to never know the love you give
[Chorus]
Hello trouble, come on in, you talk about heartaches
Where'n the world ya been?
I ain't had the miseries since you been gone
Hello trouble, trouble, trouble, welcome home