Bryan White – Rebecca Lynn, is a song co-written by Skip Ewing and Don Sampson, originally recorded by Ewing on his 1990 album A Healin' Fire.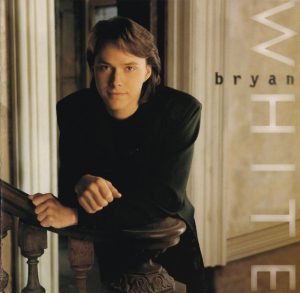 It was later recorded by American country music singer Bryan White. It was released in September 1995 as the fourth and final single from his self-titled debut album. The song reached a peak of Number One on the Billboard country charts in early 1996, giving White his second Number One.
Is a mid-tempo country ballad in which the narrator recalls a female named Rebecca Lynn, a "quiet girl with green eyes full of fire" with whom he fell in love in second grade. The first verse and chorus follow them through elementary school as they play together. In the second verse, they learn in high school "what it really means to be in love" and eventually get engaged after the prom. By the third verse, the two have married and had a child named Laura Jean together as well.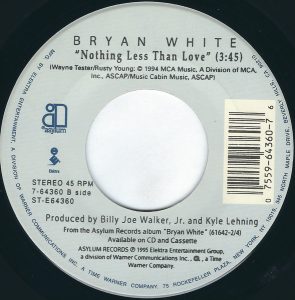 Bryan White – Rebecca Lynn
From the album Bryan White
B-side "Nothin' Less Than Love"
Released September 1995
Recorded 1994
Genre Country
Length 3:58
Label Asylum
Songwriter(s) Don Sampson Skip Ewing
Producer(s) Kyle Lehning Billy Joe Walker Jr.
Bryan White – Rebecca Lynn lyrics
Rebecca Lynn grew up in Carolina
Half a mile from Tucker Cherry's farm
A quiet girl with green eyes full of fire
Her daddy's pride and all her mama's charm
Rebecca Lynn became my heart's desire
Long about the start of second grade
Mrs. Rosenbloom let me sit beside her
So we pass notes and after school we play
Singin'
Ring around the rosie
Pocket full of dreams and posies
Patty cake
A baker's man
Tag, you're it
Kick the can
And I think I hear my mama calling
Gotta go
Man, I loved her so
High school days
Me and Becky learning
What it really means to be in love
Give and take
Holding back for heaven's sake
And fightin' for a week
Then makin' up
I said, "Please, Becky, won't you marry me?"
Prom night in my car out by the curb
She was so surprised
First she laughed
And then she cried
And somewhere in my heart
I'm sure I heard
Ring around the rosie
Pocket full of dreams and posies
Patty cake
A baker's man
Tag, you're it
Kick the can
Mama flashed the porch light for me
Gotta go
Man, I loved her so
When love is wrong
It dies
And that's the way it goes
But when it's right
Your love grows
Laura Jean was born in Tennessee
That's a common little miracle, I know
But for me and Becky Lynn
She's the dream that started when
We fell in love so many years ago
Singin'
Ring around the rosie
Pocket full of dreams and posies
Patty cake
A baker's man
Tag, you're it
Kick the can
And I think I hear your mama calling
Gotta go
Oh, man, I love you so