Bill Phillips – Put It Off Until Tomorrow: A Timeless Country Classic
When The Cowboy Sings is proud to present an in-depth look at the classic country song «Put It Off Until Tomorrow» by Bill Phillips. This timeless tune has captivated country music fans for decades and remains a beloved favorite in the genre.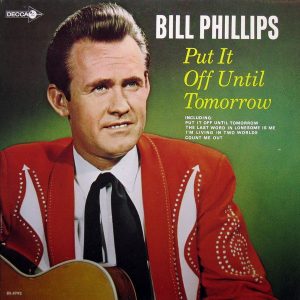 The Origins of the Song
«Put It Off Until Tomorrow» was written by the legendary Dolly Parton and her uncle Bill Owens. The song was first recorded by American country music artist Bill Phillips in June 1965 and released in January 1966. The song was included in Phillips' album «Put It Off Until Tomorrow,» which was produced by Owen Bradley.
Chart Success and Awards
«Put It Off Until Tomorrow» rose to No. 6 on the US country charts and was named BMI's Song of the Year in 1966. The song's success helped launch Dolly Parton's career, as her backup vocals on the track gained attention from disc jockeys around the country.
The Song's Meaning
The lyrics of «Put It Off Until Tomorrow» tell the story of a person who is heartbroken by the end of a relationship. The protagonist pleads with their former lover to delay their departure, as they have already caused enough pain for one day. The song's emotional resonance and relatable theme have made it a favorite among country music fans.
Bill Phillips: The Man Behind the Music
Bill Phillips was a talented country singer who enjoyed a successful career in the 1960s and 1970s. Although he is best known for his rendition of «Put It Off Until Tomorrow,» Phillips released several other charting singles during his career. Sadly, Phillips passed away in 2010 at the age of 74 after a lengthy battle with diabetes.
A Lasting Legacy
«Put It Off Until Tomorrow» has been covered by numerous artists, including Loretta Lynn, Jan Howard, and Jean Shepard. The song's enduring popularity is a testament to the timeless appeal of country music and the exceptional talents of Bill Phillips, Dolly Parton, and Bill Owens.
In conclusion, «Put It Off Until Tomorrow» is a classic country song that continues to resonate with fans of the genre. Its heartfelt lyrics, memorable melody, and the powerful performances of Bill Phillips and Dolly Parton have ensured its place in the annals of country music history.
Bill Phillips – Put It Off Until Tomorrow Lyrics
Put it off until tomorrow oh oh you've hurt me enough today
You say our love is over that you have found another
You say you're going away
But leave me tomorrow oh oh you've hurt me enough today
You've hurt me enough today I can't believe the words you say
I must accept the fact you won't be coming back
So stay just one more day loneliness isn't far away
Put it off until tomorrow oh oh you've hurt me enough today
So stay just one more day…