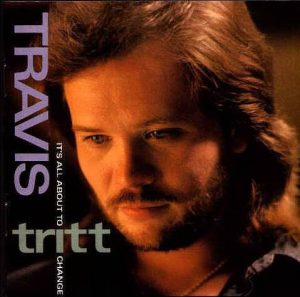 Travis Tritt – Here's a Quarter (Call Someone Who Cares), is a song written and recorded by American country music artist Travis Tritt. It was released in May 1991 as the lead-off single to his album It's All About to Change. It peaked at number 2 in both the United States and Canada. This is one of Tritt's most popular songs. When he would perform the song live, members of the audience would often throw actual quarters on stage, many striking Tritt.
The narrator speaks of a former significant other who regrets leaving him, and now wants to include herself in his life once again. However, the narrator no longer trusts her because of her actions. In response, he gives her a quarter (in 1991, the common price for a local pay telephone call) and tells her to phone someone else who cares to listen.




From the album It's All About To Change
B-side "If Hell Had a Jukebox"
Released May 7, 1991
Genre Country
Length 2:32
Label Warner Bros. Nashville
Songwriter(s) Travis Tritt
Producer(s) Gregg Brown.
Travis Tritt – Here's a Quarter (Call Someone Who Cares) Lyrics
You say you were wrong, to ever leave me alone
Now you're sorry, you're lonesome and scared
And you say you'd be happy, if you could just come back home
Well here's a quarter, call someone who cares
Call someone who'll listen and might give a damn
Maybe one of your sordid affairs
But don't you come 'round here handin' me none of your lines
Here's a quarter, call someone who cares
Well I thought what we had, could never turn bad
So your leavin' caught me unaware
But the fact is you've run, girl that can't be undone
So here's a quarter, call someone who cares
Call someone who'll listen and might give a damn
Maybe one of your sordid affairs
But don't you come 'round here handin' me none of your lines
Here's a quarter, call someone who cares
Yeah here's a quarter, call someone who cares