Tennessee Ernie Ford – Mule Train, is a popular song written by Johnny Lange, Hy Heath, Ramblin' Tommy Scott and Fred Glickman. It is a cowboy song, with the singer filling the role of an Old West wagon driver, spurring on his team of mules pulling a delivery wagon. As he goes about his work, the driver mentions the various mail-order goods he is delivering to far-flung customers. "Mule Train" was originally recorded by Ellis "Buz" Butler Jr. in 1947. Butler was the original writer of the song along with Fred Glickman. The original recording was released by Buz Butler on Decca Records.[citation needed]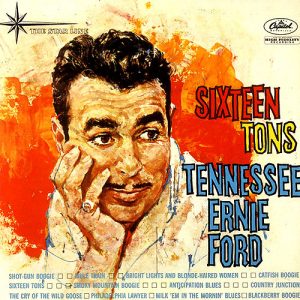 The song was featured in the 1950 Republic Western Singing Guns (where it was sung by Vaughn Monroe) and nominated for the Academy Award for Best Original Song in 1950, but lost out to "Mona Lisa".
Western Writers of America chose it as one of the Top 100 Western songs of all time.
The Tennessee Ernie Ford version was recorded on October 18, 1949, and released by Capitol Records as catalog number 40258. The record first reached the Billboard chart on November 25, 1949 and lasted nine weeks on the chart, peaking at number 10. Ford's version also charted on the Billboard country chart, reaching number 1 in December, becoming the first song to top the component "Country & Western Records Most Played By Folk Disk Jockeys" chart (on December 10, 1949). Like Laine's version, Ford's version contained whipcracking sound effects and shouting by the driver as he spurs on the mules.
Tennessee Ernie Ford – Mule Train
From the album Sixteen Tons
B-side "Anticipation Blues"
Released November 1949
Recorded October 18, 1949
Genre Country, folk
Length 3:04
Label Capitol
Tennessee Ernie Ford – Mule Train lyrics
Mule train (giddyup, pah, giddahh) *whip* (heah)…*whip*
Mule train (yeah-ha) *whip*
Clippity-cloppin' *whip* over hill and plain
Seems as how they never stop
Clippity-clop, clippity-clop
Clippity-clippity, clippity-clippity
Clippity-cloppin' along
Mule train (eeh, heahy-ah) *whip…whip*
Mule train (weuh) *whip…whip*
Clippity-cloppin' on the mountain chain
Soon they're gonna reach the top
Clippity-clop, clippity-clop
Clippity-clippity, clippity-clippity
Clippity-cloppin' along
There's a plug o' chaw tebaccer for the miner in Corona
A guitar for a cowboy way out in Arizona
A dress o' calico for the pretty Navajo
Get along mule, get along
Mule train (gidda-ah) *whip…whip*
Mule train (yeuh) *whip*
Clippity- *whip* cloppin' through the wind and rain *whip*
A'keep 'em goin' 'til they drop
Clippity-clop, clippity-clop
Clippity-clippity, clippity-clippity
Clippity-cloppin' along
There's cotton thread 'n' needles for the folks way out yonder
A shovel for a miner who left his home to wander
Some rheumatism pills for the settlers in the hills
Get along mule, get along
Clippity-clop, clippity-clop
Clippity-clippity, clippity-clippity
Clippity-cloppin' along
Mule train (I'll skin you, aeah) *whip…whip*
Mule train *whip…whip*