Howdy Friends this week a very overall Different & Unique Show Swinging out with Western Swing from Jody Nix, Keith Phillips, Cowboy Joe Babcock, Steve Markwardt.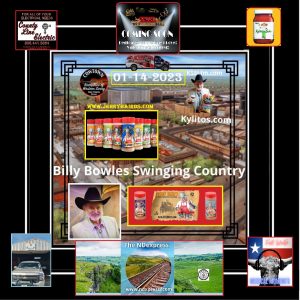 Then making up from a Mistake last week we'll hear one from The Late HF Ritchie & One from The Late Gil Prather, followed by one from Both HF & Gil Together.
Next is a Special Segment Starting with a Song from Gary P. Nunn Leading into my Special Guest Jerry Baird Founder of Jerry Bairds Seasonings & Mulitple Award Winning Chuck Wagon Cook & Author Rancher etc. etc. LOL Entrepreneur Texas Historian and New Sponsor to Swinging Country we'll have a Interesting visit closing out with an appropriate song from Lonnie Joe Howell.
Next Grouping from NDX has Billy Mata, Carlos Washington's STEEL HORSE SWING, Eric Diamond, Sonny Morgan. And then Shane R.S. Vandiver & The Nightlife, Doug Boggs, Johnny Angel.
And then as Promised a Very Different Outside The Box Theme something wacky Thought Provoking Yet Fun ride with this theme. Featuring songs from Long ago to recent times from the Following Artist
The Father of Western Swing Milton Brown and His Musicial Brownies.
Tommy Collins
The Geezinslaws
Regan Hudson
AL Hendrix
George Jones
Buck Owens
Bill Anderson
Cathy Jewell
Buck Owens
Winn Stewart
Johnny Paycheck
Hank Thompson
Ray Stevens
Tom T. Hall
Freddy Weller
And Don't forget to Join us on My Personal Timeline For SWING – BACK For Chat Pictures & FUN. Until then May God Bless You and Yours 🙂 Keep Swinging Country—
Swinging Country January 14