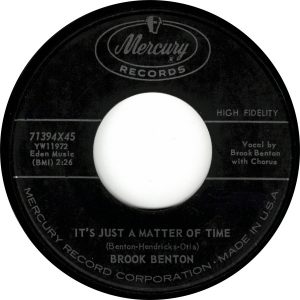 Sonny James – It's Just a Matter of Time, is a popular song written by Brook Benton, Clyde Otis, and Belford Hendricks. The original recording by Benton topped the Billboard Hot R&B Sides chart in 1959 and peaked at No. 3 on the Hot 100 pop chart, the first in a string of hits for Benton that ran through 1970.
The song later found a second life as a country song, with major hit recordings by three different country music performers during the 1970s and 1980s, two of which hit number one.
The first cover version that became a country hit was recorded by Sonny James; his version spent four weeks atop the Billboard magazine Hot Country Singles chart in February 1970. The song was James' 10th in a string of 16 consecutive chart-topping single releases, spanning from 1967-1971.
James performed the song on The Ed Sullivan Show on January 11, 1970 (just days after the single was released) and Hee Haw on January 21.
Sonny James – It's Just a Matter of Time
From the album It's Just a Matter of Time
B-side "This World Of Ours"
Released January 1970
Recorded 1969
Genre Country
Label Capitol Nashville
Songwriter(s) Brook Benton Belford Hendricks Clyde Otis
Producer(s) George Richey
Sonny James – It's Just a Matter of Time Lyrics
Someday, some way
You'll realize that
You've been blind
Yes, darling, you're
Going to need me again
It's just a matter of time
Go on, go on
Until you reach
The end of the line
But I know you'll
Pass my way again
It's just a matter of time
After I gave you
Everything I had
You laughed and
Called me a clown
Remember, in your search
For fortune and fame
What goes up must come down
I know, I know that one day
You'll wake up and find
That my love was a true love
It's just a matter of time