'Silver Wings', a song written by Merle Haggard, was recorded by Merle Haggard & The Strangers, for the Capitol label, on December 9, 1968, at Capitol Recording Studio, 1750 North Vine St., Hollywood, CA. recording session two other songs were recorded: "Every fool has a rainbow" and "Hungry eyes", in this recording session Merle was accompanied by: James Burton (guitar), Roy Nichols (guitar), Norman Hamlet (steel), Howard Lowe (bass), Eddie Burris (drums), George French (piano) and Bonnie Owens (harmony vocal). The song was released in June 1969, and produced by Ken Nelson. The song failed to enter the charts.
The song was included on Merle Haggard's tenth studio album, A Portrait of Merle Haggard (Capitol 1969), the album was released on September 15, 1969, reaching number # 3 on the US Top Country Albums charts, on January 3, 1970, and remained a total of 28 weeks on the charts.
About the song:
Merle Haggard recalled the story of this sad song to UK Uncut magazine: "It was written on a plane, a 707 leaving Phoenix, Arizona and heading to Los Angeles with Bonnie Owens" , she said. "I looked out and those silver wings just sparkled. I thought, 'What a great premise for a song.' Although it was not a no. 1 hit, Silver Wings has endured as one of Haggard's greatest heartthrob.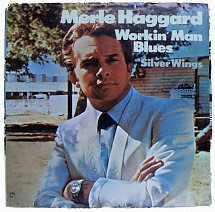 Some versions:
Tommy Cash 1970 (Epic)
Roy Drusky 1970 (Mercury)
The Buckaroos 1971 (Capitol)
Charlie McCoy 1971 (Monument)
The Wichita Linemen 1973 (Hillside)
Freddy Fender 1981 (Piccadilly)
Pam Tillis 1994 (Artist)
Bastard Sons of Johnny Cash 2001 (Ultimatum Music)
Jimmy Buffett 2006 (Mailboat)
Suzy Bogguss 2014 (Loyal Dutchess)
Miquel Batlle Garriga
mbatllegarriga@gmail.com




Merle Haggard – Silver Wings Lyrics
Silver wings shining in the sunlight
Roaring engines headed somewhere in flight
They're taking you away, leaving me lonely
Silver wings slowly fading out of sight
"Don't leave me," I cry
Don't take that airplane ride
But you locked me out of your mind
Left me standing here behind
Silver wings shining in the sunlight
Roaring engines headed somewhere in flight
They're taking you away, leaving me lonely
Silver wings slowly fading out of sight
Silver wings shining in the sunlight
Roaring engines headed somewhere in flight
They're taking you away, leaving me lonely
Silver wings slowly fading out of sight
Slowly fading out of sight