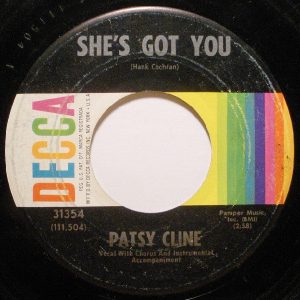 Loretta Lynn – She's Got You, is a country song written by Hank Cochran and first recorded (in December 1961) and released (in 1962) as a single by Patsy Cline. Musically the song is an upbeat jazz-pop song with country overtones to support it.
Has been recorded by numerous artists, such as Dean Martin (He's Got You), Ruby and the Rednecks, Rosanne Cash, Ricky Van Shelton, LeAnn Rimes, Timi Yuro, Jimmy Buffett, Lee Ann Womack, Cat Power, Elvis Costello, Loretta Lynn and Rhiannon Giddens.
In 1977, the Loretta Lynn remake was a No. 1 country hit. when her tribute album to Cline called I Remember Patsy was released.
The song was covered by Don McLean on his 1987 compilation Greatest Hits Then & Now as "He's Got You". McLean's version peaked at number 73 on the Billboard Hot Country Singles chart.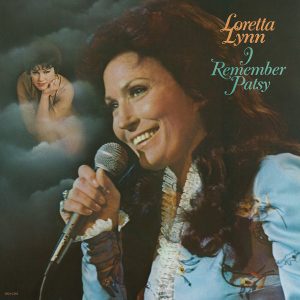 Loretta Lynn – She's Got You
From the album I Remember Patsy
B-side "Lady That Lived Here Before"
Released 7 February 1977
Recorded 30 June 1976
Bradley's Barn, Mt. Juliet, Tennessee, U.S.
Genre Country
Length 3:05
Label MCA
Songwriter(s) Hank Cochran
Producer(s) Owen Bradley
Loretta Lynn – She's Got You lyrics
[Verse 1]
I've got your picture
That you gave to me
And it's signed with love
Just like it used to be
The only thing different
The only thing new
I've got your picture
She's got you
[Verse 2]
I've got the records
That we used to share
And they still sound the same
As when you were here
The only thing different
The only thing new
I've got the records
She's got you
[Refrain]
I've got your memory
Or has it got me?
I really don't know
But I know it won't let me be
[Verse 3]
I've got your class ring
That proved you cared
And it still looks the same
As when you gave it, dear
The only thing different
The only thing new
I've got these little things
She's got you
[Refrain]
I've got your memory
Or has it got me?
I really don't know
But I know it won't let me be
[Verse 3]
I've got your class ring
That proved you cared
And it still looks the same
As when you gave it, dear
The only thing different
The only thing new
I've got these little things
She's got you