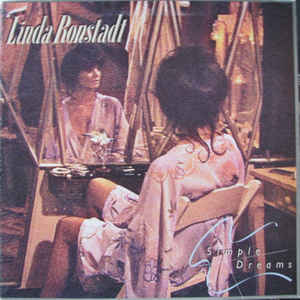 «Blue Bayou» is a song written by Roy Orbison and Joe Melson. It was originally sung and recorded by Orbison, who had an international hit with his version in 1963. It later became Linda Ronstadt's signature song, with which she scored a Top 5 hit with her cover in 1977. The song has since been recorded by many others.
Linda Ronstadt took the song to #3 on the Billboard Hot 100 in late 1977, where it held for four weeks, as well as #2 Country and #3 Easy Listening. It also reached #2, holding there for four weeks, on the Cash Box Top 100 chart.




The single was RIAA certified Gold (for sales of over 1 million US copies) in January 1978. It was the first of Ronstadt's three Gold singles. Don Henley of the Eagles sang backup on the recording. «Blue Bayou» was later certified Platinum (for over 2 million copies sold in the United States). It was a worldwide smash.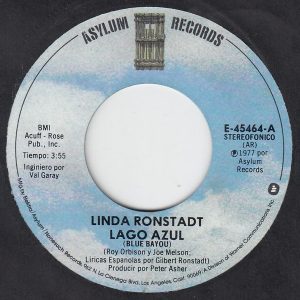 Ronstadt's version was nominated for the Grammy Award for Record of the Year and for Best Female Pop Vocal Performance.
Ronstadt also recorded a Spanish-language version of the song, titled «Lago Azul (Blue Bayou)», which was released in 1978 on the single Asylum E-45464, backed by «Lo Siento Mi Vida», a previously released Spanish song that Ronstadt herself co-wrote. This version has never been included on any reissues of Simple Dreams.
Ronstadt later performed the song on the episode 523 of The Muppet Show, first aired October 26, 1980 on UK, and May 16, 1981 on United States.
Ronstadt's version appears, in edited form, in the 2017 movie American Made.
From the album Simple Dreams
Released August 23, 1977 (US)
Genre Country pop, soft rock, yacht rock
Length 3:57
Label Asylum
Songwriter(s) Roy Orbison, Joe Melson
Producer(s) Peter Asher
Linda Ronstadt – Blue Bayou Lyrics
I feel so bad I got a worried mind
I'm so lonesome all the time
Since I left my baby behind
On Blue Bayou
Saving nickles saving dimes
Working til the sun don't shine
Looking forward to happier times
On Blue Bayou
I'm going back someday
Come what may
To Blue Bayou
Where the folks are fine
And the world is mine
On Blue Bayou
Where those fishing boats
With their sails afloat
If I could only see
That familiar sunrise
Through sleepy eyes
How happy I'd be
Gonna see my baby again
Gonna be with some of my friends
Maybe I'll feel better again
On Blue Bayou
Saving nickles saving dimes
Working til the sun don't shine
Looking forward to happier times
On Blue Bayou
I'm going back someday
Come what may
To Blue Bayou
Where the folks are fine
And the world is mine
On Blue Bayou
Where those fishing boats
With their sails afloat
If I could only see
That familiar sunrise
Through sleepy eyes
How happy I'd be
Oh that boy of mine
By my side
The silver moon
And the evening tide
Oh some sweet day
Gonna take away
This hurting inside
Well I'll never be blue
My dreams come true
On Blue Bayou