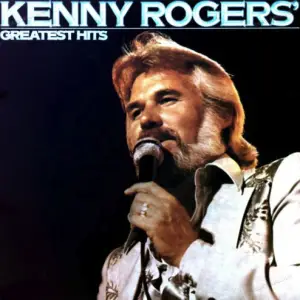 Kenny Rogers – Lady, is a song written by Lionel Richie and first recorded by American country music artist Kenny Rogers. It was released in September 1980 on the album Kenny Rogers' Greatest Hits.
It is listed at #60 on Billboard's "Hot 100 All-Time Top Songs".
Since his breakup with the First Edition, Rogers had tasted considerable success as a solo act, with nine no. 1 entries on the Billboard magazine Hot Country Singles chart (prior to the release of "Lady"), plus several top 10 hits on the Billboard Hot 100 and Hot Adult Contemporary Tracks charts.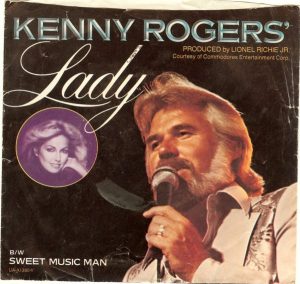 It reached no. 1 on three of those charts in late 1980. On the Hot 100, "Lady" reached the summit on 15 November and stayed at the top for a massive six-week stint (tying with Blondie's "Call Me" for the longest run of the year). On 27 December, it would be knocked out of the top spot by "(Just Like) Starting Over" by John Lennon. On the Hot Country Singles chart, it would spend a week at the summit. "Lady" also peaked at number 42 on the Hot Soul Singles chart.
As a country entry, "Lady" was Rogers' 10th chart-topping hit in a career that saw him collect 20 no. 1 songs between 1977 and 2000. On the Hot 100, it was his only solo chart-topping song, although Rogers would have a duet no. 1 three years later (1983's "Islands in the Stream" with Dolly Parton). On the Hot Adult Contemporary Tracks chart, "Lady" was Rogers' second (of eight) songs that reached the chart's summit. Billboard ranked it at the no. 3 song for 1981.
Kenny Rogers – Lady
From the album Greatest Hits
B-side "Sweet Music Man"
Released September 29, 1980 (U.S.)
Recorded 1980
Genre Country
Length 3:54
Label Liberty 1380
Songwriter(s) Lionel Richie
Producer(s) Lionel Richie




Kenny Rogers – Lady Lyrics
[Verse 1]
Lady, I'm your knight in shining armor
And I love you
You have made me what I am and I am yours
My love, there's so many ways
I want to say I love you
Let me hold you in my arms forever more
[Chorus]
You have gone and made me such a fool
I'm so lost in your love
And oh, we belong together
Won't you believe in my song
[Verse 2]
Lady, for so many years
I thought I'd never find you
You have come into my life
And made me whole
Forever let me wake to see you each and every morning
Let me hear you whisper softly in my ear
[Chorus]
In my eyes I see no one else but you
There's no other love like our love
And yes, oh yes
I'll always want you near me
I've waited for you for so long
[Verse 3]
Lady, your love's the only love I need
And beside me is where I want you to be
'Cause my love
There's something I want you to know
You're the love of my life
You're my lady