Ernest Tubb's «Drivin' Nails in My Coffin»: A Classic Country Music Tune
If you're a fan of country music, you've likely heard of Ernest Tubb. The Texas-born singer and songwriter was a major force in the genre from the 1930s through the 1960s, and his influence can still be heard today. One of Tubb's most beloved songs is «Drivin' Nails in My Coffin,» a classic tune that's worth revisiting.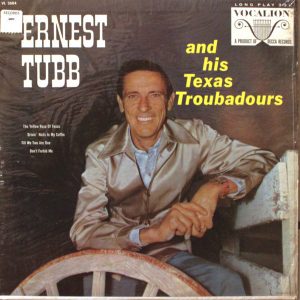 Recorded in 1946, «Drivin' Nails in My Coffin» was written by Jerry Irby. The song was produced by Decca Records, and it was included on Tubb's album «Ernest Tubb And His Texas Troubadours.» Vocalion 1960. The single was a major hit, spending 13 weeks on the Billboard charts and peaking at number five.
So what's the song about? Well, «Drivin' Nails in My Coffin» is a classic country music tale of heartbreak and betrayal. The song's narrator laments the fact that his lover has left him, and he feels like he's slowly dying as a result. He likens his pain to «drivin' nails in [his] coffin» and notes that his «heart is heavy [and his] soul is sad.»
Despite its somewhat morose subject matter, «Drivin' Nails in My Coffin» is an upbeat tune that showcases Tubb's signature yodeling style. The song's catchy melody and memorable lyrics have made it a favorite of country music fans for over 80 years.
If you're a fan of classic country music, «Drivin' Nails in My Coffin» is a must-listen. The song's timeless message of heartbreak and resilience is still relevant today, and Tubb's powerful vocals and distinctive style make it a true classic.
The Legacy of Ernest Tubb
Ernest Tubb was a true pioneer of country music. Known as the «Texas Troubadour,» Tubb was one of the first artists to blend elements of blues and swing music into his country sound. His influence can be heard in the music of countless artists who came after him, including Willie Nelson, Merle Haggard, and George Jones.
Tubb's career spanned over three decades, and he recorded over 900 songs during his lifetime. In addition to «Drivin' Nails in My Coffin,» Tubb's other major hits included «Walking the Floor Over You,» «Rainbow at Midnight,» and «Thanks a Lot.»
Despite his many successes, Tubb remained humble throughout his life. He once famously said, «I'm not a star – just a little old country boy.»
The Importance of Country Music
Country music has a long and storied history, and it continues to be one of the most popular genres of music today. From the honky-tonk sounds of the 1940s to the modern country pop of today, the genre has evolved and adapted to reflect the changing tastes of music fans.
At its core, country music is all about telling stories. Whether it's a tale of heartbreak, a celebration of love, or a reflection on the beauty of nature, country music has a way of capturing the essence of the human experience.
So if you're a fan of country music, take a listen to Ernest Tubb's «Drivin' Nails in My Coffin.» It's a classic tune that's sure to resonate with anyone who's ever been through a difficult breakup or felt the pain of a broken heart. And if you're new to the genre, give it a chance – you might just find that country music speaks




Ernest Tubb – Drivin' Nails in My Coffin Lyrics
My sweetheart has gone and I'm so lonely she said that she and I were through
So I started out drinking for past time drivin' nails in my coffin over you
I'm just drivin' nails in my coffin everytime I drink a bottle of booze
I'm just drivin' nails in my coffin Lord I'm drivin' those nails over you
Now ever since the day that we've parted I've been so sad and so blue
I'm always thinking of you love and I just can't quit drinking that old booze
I'm just drivin' nails in my coffin…
Now you've turned me down you don't want me there's nothing now I can lose
I'm just drivin' those nails in my coffin and worryin' my darlin' over you
I'm just drivin' nails in my coffin…