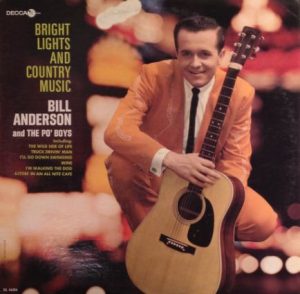 Bill Anderson – Bright Lights and Country Music, is a song written and first recorded by American country singer-songwriter Bill Anderson. The track was also co-written with Jimmy Gateley. It was released as a single in 1965 via Decca Records and became a major hit.
Was recorded on June 24, 1965, at the Bradley Studio, located in Nashville, Tennessee. The sessions were produced by Owen Bradley, who would serve as Anderson's producer through most of years with Decca Records. Two additional tracks were recorded at the session as well.
Was released as a single by Decca Records in August 1965. The song spent 16 weeks on the Billboard Hot Country Singles before reaching number 11 in November 1965. It was later released on his 1965 studio album, also called Bright Lights and Country Music.
Bill Anderson – Bright Lights and Country Music
from the album Bright Lights and Country Music
B-side «You Can Have Her»
Released August 1965
Recorded June 24, 1965
Studio Bradley Studio
Genre CountryNashville Sound
Length 2:35
Label Decca
Songwriter(s) Bill Anderson Jimmy Gateley
Producer(s) Owen Bradley
Bill Anderson – Bright Lights and Country Music Lyrics
I love those bright lights and country music
I won't stay home and cry tonight like all the nights before
I've just learned that I don't really need you anymore
I found a little place downtown where guys like me can go
And they've got bright lights and country music
Bright lights and country music a bottle and a glass
Soon I'll be forgetting that there ever was a past
And when everybody asks me what helped me forget so fast
I'll say bright lights and country music
A table by the bandstand a bottle filled with wine
Honky tonks were made for men with women on their minds
Nothing else can take away this loneliness of mine
Quite like bright lights and country music
Bright lights and country music…
I love those bright lights and country music