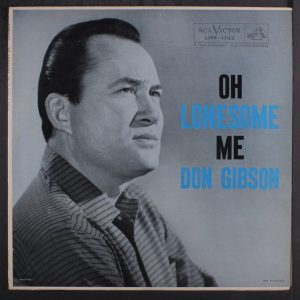 Don Gibson – I Can't Stop Loving You, is a popular song written and composed by country singer, songwriter, and musician Don Gibson, who first recorded it on December 3, 1957, for RCA Victor Records. It was released in 1958 as the B-side of «Oh, Lonesome Me», becoming a double-sided country hit single. At the time of Gibson's death in 2003, the song had been recorded by more than 700 artists, most notably by Ray Charles, whose recording reached No. 1 on the Billboard chart.
Gibson wrote both «I Can't Stop Loving You» and «Oh, Lonesome Me» on June 7, 1957, in Knoxville, Tennessee. «I sat down to write a lost love ballad,» Gibson said in Dorothy Horstman's 1975 book Sing Your Heart Out, Country Boy. «After writing several lines to the song, I looked back and saw the line 'I can't stop loving you.' I said, 'That would be a good title,' so I went ahead and rewrote it in its present form.»
The song was covered by Ray Charles in 1962, featured on Charles' Modern Sounds in Country and Western Music, and released as a single. Charles' version reached number one on the Billboard Hot 100 in 1962, for five weeks. This version went to number one on the U.S. R&B and Adult Contemporary charts. Billboard ranked it as the No. 2 song for 1962. Charles reached No. 1 in the UK Singles Chart in July 1962, staying for two weeks. In Sweden it was the first number one single on the sales chart Kvällstoppen on July 10, 1962.
The Ray Charles version is noted for his saying the words before the last five lines of the song on the final chorus: «Sing the song, children». Choral backing was provided by The Randy Van Horne Singers. It was ranked No. 164 on Rolling Stone's list of the 500 Greatest Songs of All Time and No. 49 on CMT's «100 Greatest Songs in Country Music».
Conway Twitty on his album of the same name; reached No. 1 on Billboard's Hot Country Singles chart




Don Gibson – I Can't Stop Loving You
From the album Oh Lonesome Me
A-side «Oh Lonesome Me»
Released December 1957
Recorded December 3, 1957
Studio RCA Studio B, Nashville, TN
Genre Country
Length 2:37
Label RCA Victor
Songwriter(s) Don Gibson
Producer(s) Chet Atkins
Don Gibson – I Can't Stop Loving You lyrics
I can't stop loving you so I've made up my mind
To live in memories of old lonesome times
I can't stop wanting you it's useless to say
So I'll just live my life in dreams of yesterday
Those happy hours that we once knew though long ago still make me blue
They say that time heels the broken heart
But time is stood still since we've been apart
I can't stop loving you…