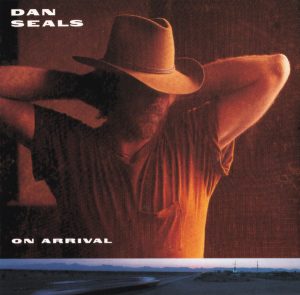 Dan Seals – Love on Arrival, is a song written and recorded by American country music singer Dan Seals. It was released in January 1990 as the lead-off single from his album On Arrival. The song spent three weeks at No. 1 on Billboard Hot Country Singles & Tracks chart that April, making it the longest-running chart-topper of his career.
A 1950s-style rock 'n' roll tune with a prominent saxophone, the singer and his girlfriend communicate using common abbreviations, such as PDQ, TGIF (although here, it means "Thank God I found" you) and TLC. The other abbreviation is "LOA," which is short for the title lyric ("love on arrival"), which the girlfriend promises to her long-absent beau once he arrives home.
Dan Seals – Love on Arrival
From the album On Arrival
B-side "Those"
Released January 1990
Recorded August 1989
Genre Country
Length 3:51
Label Capitol
Songwriter(s) Dan Seals
Producer(s) Kyle Lehning
Dan Seals – Love on Arrival lyrics
I just had to call, cause babe I got your letter
And I understood almost every line
You said T.L.C. is what you miss from me
You want back in my arms P.D.Q
And ooh I love this game
Them three letters by your name L.O.A. what does that say?
She said ooh baby it's so simple
I did not mean to make it hard to understand
I've been gone so long
Want you to know I miss my man oh yes I do
And that message for you
Tells you what I'm gonna do when I get home oh yeah
L.O.A. (Love on arrival)
For you (Love on arrival)
L.O.A. is what I'm gonna give to you
I've been countin' the days
I've been lonely, I've been blue (Love on arrival)
For you (Love on arrival)
And now after all this time
I've got nothing on my mind but L.O.A. (Love on arrival)
For you
I said ooh baby I do love you
And I'm always amazed the way we fit
And I T.G.I.F
Thank God I found you when I did, oh yes I do
Them three letters by your name
I will just give you just the same
When you get home, oh yes I will
L.O.A. (Love on arrival)
For you (Love on arrival)
L.O.A. is what I'm gonna give to you
I've been countin' the days
I've been lonely, I've been blue (Love on arrival)
For you (Love on arrival)
And now after all this time
I've got nothing on my mind but L.O.A. (Love on arrival)
For you
I don't need no confirmation
I get it right here in my land
Don't need no translation
You done spelled it out with words
That I can understand L.O.A
Ooh ooh ooh, L.O.A
L.O.A. (Love on arrival)
For you (Love on arrival)
L.O.A. is what I'm gonna give to you
I've been countin' the days
I've been lonely, I've been blue (Love on arrival)
For you (Love on arrival)
And now after all this time
I've got nothing on my mind but L.O.A. (Love on arrival)
For you
And now after all this time
I've got nothing on my mind but L.O.A. (Love on arrival)