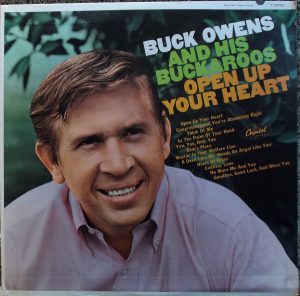 «Waitin' in Your Welfare Line» is a 1966 single by Buck Owens. The single was Owens' tenth number one on the U.S. country music chart. «Waitin' in Your Welfare Line» spent seven weeks at the top and a total of eighteen weeks on the country chart.
1967: Mrs. Miller on her last Capitol Records album The Country Soul of Mrs. Miller.
From the album Open Up Your Heart
B-side «In the Palm of Your Hand»
Released January 3, 1966
Genre Country
Label Capitol
Songwriter(s) Buck Owens Don Rich Nat Stuckey
Producer(s) Ken Nelson
Buck Owens – Waitin' In Your Welfare Line lyrics
I got the hungries for your love,
And I'm waitin' in your welfare line.
Well, I ain't got nothin'
But the shirt on my back,
And an old two button suit
I walked outta my job
About a week ago,
And now I'm sleepin' in a
Telephone booth
But I'm a-gonna be
The richest guy around,
The day you say you're mine
I got the hungries for your love
And I'm waitin' in your welfare line
Well, when I first saw you babe,
You nearly made me wreck
My ol' '49 Cadillac
I knew at a glance
That it was you for me;
I had to have your love by heck
I'm gonna follow you baby
Wherever you go;
I got nothin' to lose
But my time
I got the hungries for your love,
And I'm waitin' in your welfare line
[Instrumental]
Well, you made me
The top dog on your hill,
And I was overjoyed
But it didn't take long
'Til the thrill was gone,
I joined the ranks of
The unemployed
Now, I'm right back where
That I started from,
But that ain't gonna
Change my mind
I got the hungries for your love,
And I'm waitin' in your welfare line
Yeah, I'm waitin' in your welfare line
(Gimme a handout)
I'm waitin' in your welfare line…